Songs and Textures: Grigore Leşe and the Resurgence of Tradition
16/01/2015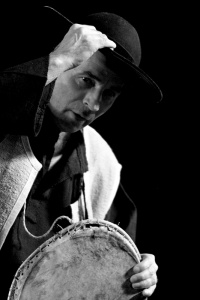 2015 starts early in 1 Belgrave Square with an evening dedicated to our spectacular folk tradition, thankfully still alive in a world of urban sprawl and rampant technology. Our special guest is Romania's most beloved bard, Grigore Leşe, the musician who in an act of pure cultural archaeology, and almost alone, resurrected the immemorial songbook of the Romanian village.
The event, celebrating Romania's National Culture Day, is also dedicated to a defining component of traditional life. Made famous by Matisse and a global fashion item by the hippie generation, the Romanian blouse has not seized to be source of inspiration for contemporary fashion designers as proved by the 'Măiastra – The Untold Story of the Romanian Blouse', the exhibition that takes one through centuries of craftsmanship and chromatic imagination.
'What is singing? Singing is a necessity. If man doesn't sing, he dies. It is a grace, it is a transcendental custom, it is a chance from God'. – Grigore Leşe
Grigore Leşe is the most famous Romanian folk singer and also an ethnologist and a professor. He was instrumental in preserving and bringing into wide circulation some of the oldest and partially forgotten musical traditions of rural Romania. His vast repertoire consists of old songs from Transylvania, which form a part of the ancient rites and rituals of the Romanian peasant. A graduate of the 'Gheorghe Dima' Music Academy in Cluj-Napoca, Grigore Leşe is a professor at the University of Bucharest. As media personality, instantly recognisable by his black and white traditional costume, he has tirelessly campaigned for the preservation of genuine Romanian folklore and way of life. His singing trademark is 'horea din grumaz' or 'singing from the throat', a rare vocal technique used by the old village singers.
Photo credit: Vlad Gherman
'Măiastra – The Untold Story of the Romanian Blouse' is an exhibition that focuses on the Romanian blouse ('IA') as a symbol of Romanian identity and showcases a selection of old blouses presented as an art installation. Worn in celebrations, ceremonies or for everyday use, the Romanian blouse was considered a sacred garment which accompanied women throughout their life. Nowadays, 'IA' is still part of the collective memory and is now increasingly present in everyday fashion and patrimonial discourses.
The exhibition is a collaborative project of Galateca Gallery in Bucharest inspired by La Blouse Roumaine community, set up in partnership with the Romanian Cultural Institute and the Horniman Museum in London.
The attached pictures were taken before the opening of 'Măiastra' at the European Union House in Dublin on 14 October 2014, as part of the Romanian Cultural Days organised by RCI London in the Irish capital.
When: Thursday, 15 January, 7pm. The exhibition will continue until 16 February, Mon-Fri, 10am - 5pm.
Where: The Romanian Cultural Institute, 1 Belgrave Square, London SW1X8PH
Admission is free, but places are limited. Please reserve your seat at Eventbrite.
Sold out!