"Somewhere in Palilula": Legendary Silviu Purcarete's First Foray Into Film
15/01/2014 @ ICR London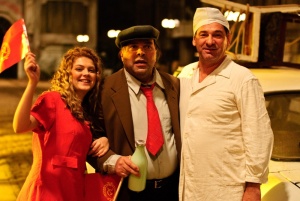 Our 2014 cultural season in London kicks off with a tribute to one of the most successful creative partnerships in contemporary Romanian culture. Acclaimed actor and visionary cultural animator Constantin Chiriac, the driving force behind Sibiu – European Capital of Culture 2007 and Sibiu International Theatre Festival, talks about his long-time association with the great Silviu Purcărete and about his experience in starring in "Somewhere in Palilula" (2012), legendary theatre and opera director's debut in film. The event, celebrating Romania's National Culture Day, will remember another consequential association in Romanian culture, that between poet Mihai Eminescu and raconteur Ion Creangă, two of the founders of Romanian literature.
The evening will open with an original dramatic homage to Eminescu and Creangă, written and performed by Constantin Chiriac, followed by the screening of "Somewhere in Palilula", an allegorical account of the collapse of communism, and a Q&A with Constantin Chiriac.
Director of "Radu Stanca" National Theatre of Sibiu since 2000, Constantin Chiriac has a successful career as a stage and film actor, with an extensive repertoire of well-received performances and roles. He played Nilă in Stere Gulea's "The Moromete Family", Rodin in Mihai Măniuţiu's "Me, Rodin", Estragon in Silviu Purcărete's "Waiting for Godot" and king Altoum in Andriy Zholdak's "Princess Turandot", among many others. Constantin Chiriac is also the director of the prestigious Sibiu International Theatre Festival, a meeting place for excellence and the most important annual festival of performing arts in Romania, as well as the recipient of numerous awards and prizes for his capabilities as an actor, director, and cultural entrepreneur. For the past years, after having coordinated the groundbreaking programme of Sibiu - European Capital of Culture in 2007, he has been working on several major international projects in Europe and throughout the world.
"Somewhere in Palilula", Silviu Purcărete's cinematic debut, is set in 1960s Romania and tells the story of Serafim, a fresh graduate of medical school, who is sent to work in Palilula, a small town lost somewhere on the country map. Here, the young doctor encounters a world in which no child is born, all the patients are healthy and the local population live in a constant state of drunkenness, feasting and orgy. Laden with stunning visuals and dark humour, the film is a magical realist wonder that invites viewers to a unique interpretation of life under communist rule.
Director's statement: "Palilula is nowhere, but everywhere. Palilula is a small island in the centre of the Vallachian plain, made of the dust of a distant planet. Over there, the physical laws of the Earth are not as rigorous as they normally are. Over there, one can never know if people lie, dream or really live. As in 'The Exterminating Angel', one can enter Palilula, but can never leave. Over there, the exterminating angel is called immorality and melancholy."
Romania | 2012 | 145 min | director: Silviu Purcărete | cast:
Áron Dimény, George Mihaiță, Răzvan Vasilescu, Constantin Chiriac, Sorin Leoveanu, Ofelia Popii, Ilie Gheorghe, Horaţiu Mălăele, Marius Manole.
In Romanian with English subtitles.
Silviu Purcărete is one of Romania's top theatre directors, well-known in the UK for his staging of "Faust" and "Gulliver's Travels", two great successes at the Edinburgh International Festival in 2009 and 2012. During a career that spans over more than three decades, he has been awarded numerous prizes and his work has been hailed in countries around the world. He has celebrated success with both dramas and operas ("La Bohème" and "Parsifal", among many others). He has worked with the National Theatre of Craiova for many years, and he recently began directing for the National Theatre of Sibiu. His film debut, "Somewhere in Palilula", brings together major names from Romanian theatre and film.
When: Wednesday, 15 January, 7pm. The screening of "Somewhere in Palilula" will start at 7.30pm (in Romanian with English subtitles).
Where: The Romanian Cultural Institute, 1 Belgrave Square, London SW1X8PH
Admission is free, but places are limited. Please confirm your attendance at T: 020 7752 0134, E: office@icr-london.co.uk