Legendary Romanian theatre director Silviu Purcărete's debut film premieres in London
07/07/2012 @ Rich Mix Cinema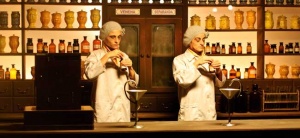 The East End Film Festival will host the UK premiere of Somewhere in Palilula, Silviu Purcărete's debut feature – a screening not to be missed!
Karlovy Vary International Film Festival will host the international premiere on 3 July 2012: "Set in 1960s Romania, this original, artistically stylized movie is a successful allegory of the collapse of the communist regime. In his late film debut, renowned theater director Silviu Purcărete invites viewers into a world full of bizarre characters, surreal spectacles, and Kafkaesque situations".
Silviu Purcărete is well-known in the UK especially through his theatre work. After the triumph of Faust at the Edinburgh International Festival in 2009, director Silviu Purcărete will return in August with the Radu Stanca National Theatre of Sibiu and the world premiere of his version of Gulliver's Travels.
About the film
Sent to work in a small town that can't be located on the map, a doctor encounters a world in which all the patients are healthy and the local population live in a constant state of drunkenness, feasting and orgy. Laden with stunning visuals and dark humour, the debut of revered theatre director Silviu Purcarete is a magical realist wonder comparable to The Hourglass Sanatorium and Gabriel Garcia-Marquez, while still completely in a world of its own.
Romania | 2012 | 145 min | director: Silviu Purcărete | cast: Anne Marie Chertic, Constantin Chiriac, Paul Chiributa, Ana Ciontea. In Romanian with English subtitles.
About the director
Silviu Purcărete (b. 1950, Bucharest) is one of Romania´s top theatre directors. During a career that spans more than 30 years, he has been awarded numerous prizes and his work has been lauded in countries around the world. He has celebrated success with both dramas (e.g. his acclaimed staging of Faust was all the rage at the 2009 Edinburgh International Festival) and operas (La Bohème and Parsifal, among many others). He has worked with the National Theatre of Craiova for many years, and he recently began directing for the National Theatre of Sibiu. His film debut, Somewhere in Palilula, brings together major names from Romanian theatre and film.
The screening will be followed by a Q&A session with director Silviu Purcărete.
When: 7 July, 6.15pm
Where: Rich Mix Cinema, 35 - 47 Bethnal Green Road, London, E1 6LA
Tickets: www.eastendfilmfestival.com