Snapshots of Transylvania: The Saxon Heritage
16 - 27/11/2015 @ Romanian Cultural Institute London, 1 Belgrave Square, SW1X 8PH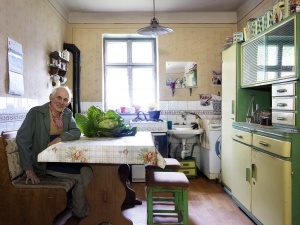 'Transylvania in Transition', an exhibition signed by photographer Simon Brown and made in collaboration with the Global Heritage Fund, opens at the RCI London as part of a series of events dedicated to British artists and travellers who, throughout time, have revealed the amazing diversity and beauty of Romania through paintings, photography and travelogues.
Simon Brown set out to document the picturesque appeal of the Saxon Villages of eastern Transylvania, Romania, a breathtaking plateau dotted with medieval cities and hamlets surrounded by the Carpathian Mountains. The photographer spent two seasons in the country capturing the vanishing way of life of the Romanian Saxons, who settled at the foot of the Carpathians starting with the 12th century and have become part of the plural social, ethnic and religious fabric of the region.
Simon Brown is a renowned interior, still life and people photographer whose work is rooted in both art and journalism and who, with over 30 years of experience, continues to contribute to the world's leading magazines and publications. A particular fascination with natural light & the interior landscape led him to develop a style which is very reminiscent of that of the Dutch masters of the 17th century. The same light and shade, the same depth, richness of colour and acute attention to detailing is there, producing work that is both sensually romantic and very contemporary. His exhibition work is represented by the Benrubi Gallery, New York and Michael Hoppen Gallery, London. Recent clients include House & Garden Magazine, The World of Interiors, Living Etc, Homes & Gardens, Saturday Telegraph Magazine, Cico Books, Firmdale Hotels, Cabbages & Roses, Nina Campbell, CTO Lighting, John Rocha AMV / BBDO Sainsbury Account. Book titles include his own titles 'Romantic Irish Homes', 'Romantic English Homes', 'Romantic French Homes', Kit Kemp's 'A Living Space', Liz Bauwens's 'Flea Market Chic', 'Thrifty Chic', 'Country in the City' and 'Simply Country', Nina Campbell's 'Interiors', 'Cabbages & Roses' and 'Living Life Beautifully'.
When: Opening on 16 November 2015, 6:30 pm and running until 27 November, Monday through Friday, 9am-5pm. Free entry.
Special event: 'Can what remains of the Saxon communities be preserved as treasured relics in the 21st Century?' - a panel discussion with champions of Transylvania, chaired by artist Tim Scott Bolton, on Tuesday 17 November, 6.30 pm. With: William Blacker, Dr. John Akeroyd, Nat Page, Rosemary Barron and Oli Broom. Tickets available on Eventbrite.
Where: Romanian Cultural Institute London, 1 Belgrave Square, SW1X8PH
Free but please reserve your seat on Eventbrite.