SHAKESPEARE'S POETRY
02/07/2012 @ Kings Place, 90 York Way, London, N1 9AG.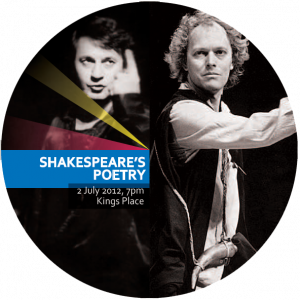 Two of the best Hamlets of all time, Michael Pennington and Ion Caramitru OBE, are joined by Paul Edmondson (The Shakespeare Birthplace Trust), Ann Thomas (The Shakespeare Centre) and Michael Dobson (The Shakespeare Institute) in the quest of the peotic genius of Britain's most famous poet.
Ion Caramitru OBE is one of the most celebrated Romanian actors of all time, and former Minister for Culture in Romania. Born to an Aromanian family in Bucharest, he graduated from the I. L. Caragiale Institute for Theater and Film Arts in 1964, having debuted on the stage a year earlier — with the title role in an acclaimed production of William Shakespeare's "Hamlet" for the Bulandra Theatre. He continued his engagement for Bulandra while starring in plays at the National Theatre Bucharest and various other theaters. For his work in establishing British-Romanian cultural links, Caramitru was named an Officer of the Order of the British Empire. In 1997, the French Ministry of Culture awarded him the title of Chevalier des Arts et des Lettres. From 2005 he has been head of the Bucharest National Theatre.
Michael Pennington is an eminent actor and director known for his Shekespearean roles. In 1986, Pennington and director Michael Bogdanov together founded the English Shakespeare Company. As joint artistic director, he starred in the company's inaugural productions of "The Henrys" and, in 1987, the seven-play history cycle of "The Wars of the Roses", which toured worldwide. He has directed plays including "Twelfth Night" at the Chicago Shakespeare Theater in the United States. In April 2004 he became the second actor, after Harley Granville-Barker in 1925, to deliver the British Academy's annual Shakespeare lecture. The lecture was entitled "Barnadine's Straw: The Devil in Shakespeare's Detail".
Partners: Poet in the City, The Shakespeare Birthplace Trust.
When: 2 July 2012, 7.00 pm
Where: Kings Place, 90 York Way, London, N1 9AG.
Tickest : £9.50, http://www.kingsplace.co.uk/.