Shakespeare According to Volceanov
08 - 11/12/2016 @ Writers' Centre Norwich & University of East Anglia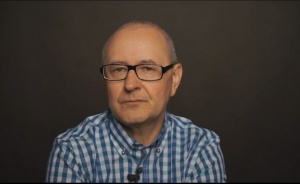 Visionary translator and editor George Volceanov, the driving force behind Romania's most ambitious Shakespeare translation project in decades, joins an international creative ensemble gathered in Norwich to mark 400 years since The Bard's death.
On 8 December, at the Writers' Centre Norwich, George Volceanov together with novelist and filmmaker Xiaolu Guo (China) and poet and novelist C.J. Driver (South Africa) discuss Shakespeare as a global cultural reference, inextinguishable source of creativity and catalyst of artistic reinvention.
In addition, between 10-11 December, the renowned translator takes part in 'Shakespeare in Translation', a two-day workshop conference bringing together some of the best known translators of Shakespeare's work worldwide at the University of East Anglia.
George Volceanov is a distinguished lexicographer, translator and editor. He has translated more than sixty books from English and Hungarian, including works by John Updike, Gore Vidal, Arnold Wesker, David Lodge, Anthony Burgess, Philip Roth, Lawrence Durrell, F. Scott Fizgerald, Péter Esterházy, Thomas Heywood, John Webster, and William Shakespeare. He is the recipient of several translation accolades, awarded by Bucharest Writers' Association (1998), the British Council (2001), the Andrei Bantaş Foundation (2003, 2008, and 2011), and the National Museum of Romanian Literature (2008). In recent years, he has written dozens of articles and essays on Shakespeare's life and works, contributing, via critical texts and literary translations, to the enlargement of the Shakespeare canon in Romania. George Volceanov is the general editor of the New Romanian Shakespeare series, which will offer new, updated Romanian translations of the Bard's complete works. As part of this momentous and huge undertaking, he himself has so far translated and co-translated 'The Tempest', 'Hamlet' (the First and Second Quarto, and the Folio, versions), 'Twelfth Night', 'The Merry Wives of Windsor', 'The Two Noble Kinsmen', 'Edward III', 'King John', 'Timon of Athens', 'Measure for Measure', 'The Comedy of Errors', 'Richard II', 'Henry IV' (Part One), and 'Coriolanus'.
When & Where:
8 December, 10am: Winter Worlds Literary Festival @ Writers' Centre Norwich
10-11 December, 9:30am-4pm: Shakespeare in Translation @ University of East Anglia
Booking via bclt.org.uk/events