Sown Signs for an Open House
22 - 23/09/2018 @ Romanian Cultural Institute, 1 Belgrave Square, SW1X8PH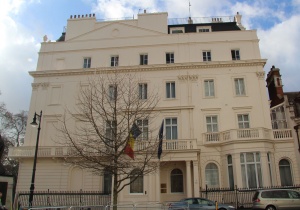 We are delighted to take part, for the eighth consecutive year, in Open House London, the greatest architectural showcase that takes over the capital every September. For this year's edition, we adorn the elegant interiors of our Belgravian palace with an exhibition dedicated to the world-renowned fascination exerted by the Romanian blouse.
With its intricate adornments and vivid colours, the famous traditional blouse (in Romanian, IE), a constant inspiration for international fashion designers, is by no means one of the most famous Romanian artefacts. More than a mere sartorial marvel, the blouse is a language in itself. The story behind the symbolism of the sewing patterns that decorate each of these garments will be revealed, alongside a rich selection of blouses, through a series of descriptive panels. The exhibition is curated by architect Ioana Corduneanu, the initiator of the 'Sown Signs' platform, who will be offering guided tours on both days of the Open House weekend. "Driven by passion and tempered by method", as she describes herself, Ioana Corduneanu has the ambition to create an Encyclopedia of the Romanian Blouse. 'Sown Signs` is a community of women determined to rediscover, practise and pass on the rich heritage of the traditional textiles to future generations.
Moving on to the first floor, the visitors will have the chance to learn more about our sumptuous building with the 'Auspicious Absents. An architectural and biographical history of 1 Belgrave Square' exhibition. Acquired by the Romanian government before WWII, the building has functioned as an embassy, ambassadorial residence or cultural institute ever since. Grade I listed by the English Heritage for its exceptional architecture, its elegant halls, old furniture and paintings by great Romanian artists have been of great interest for tourists and for those who want to learn more about the insights of the British capital's architecture.
The event is organised with the support of Romanian Women in UK.
When: 22 & 23 September 2018, 10am-5pm. Exhibition guided tours at 11.00, 12.30, 14.00 & 15.30.
Where: Romanian Cultural Institute, 1 Belgrave Square, London SW1X 8PH