Season's Greetings
@ ICR London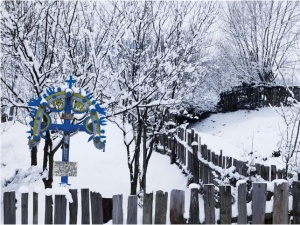 Merry Christmas & Happy New Year in 2014 from the team of the Romanian Cultural Institute in London!
Thank you for your friendship and support.


Troiţa
Photo by Razvan Voiculescu, taken in Poiana Botizei, in December 2008
The Troiţa, Triptych or Roadside Crucifix, is one of the most cherished and characteristic objects of devotion in Romanian Christianity. Placed in visible sites at crossroads, at the ends of traditional villages, in church yards or near houses, the Troiţa is meant to protect the community and travellers and, on occasion, to commemorate an important event.
Poiana Botizei, a village in the historical region of Maramures, Northern Romania, rests at the very end of a valley. Beyond it there is only forest. In winter, the settlement is almost completely isolated and one can reach it only by horse-drawn sleigh. During Christmas, the mass is celebrated in the community's old church, which was built on a hill overlooking the village. Razvan Voiculescu
© Razvan Voiculescu | http://blog.razvan-voiculescu.ro