Searching for Life with Painter Bogdan Mihai Radu
20/03 - 12/04/2019 @ Romanian Cultural Institute London, 1 Belgrave Square, SW1X 8PH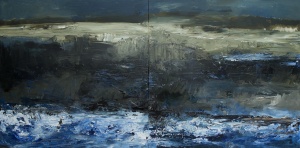 This spring, RCI's Brâncuşi Gallery is set to host the first UK showcase of painter Bogdan Mihai Radu, winner of the 1st Prize at last year's Oxford International Art Fair. The exhibition, a striking display that reunites the floral repertory already familiar to the painter's audiences and his lesser-known abstract expressionist works, comprises 20 acrylic paintings from the enthralling 'Searching for Life' series.
Prefaced by HE Dan Mihalache, the Ambassador of Romania to the Court of St James's, the event is organised in partnership with Hospices of Hope and the Embassy of Romania in the UK, in the presence of the artist.
"A Romanian artist whose works spoke volumes at the entrance to the show. On an immense scale that's immersive, Bogdan's abstracted expressionism is bold and striking, dense with mood and emotion". (Richard Knight, Christie's, Oxford 2018)
Educated at the Fine Arts Faculty in Cluj-Napoca, Bogdan Mihai Radu held his first solo show at Casa Ille et Villaine in 2002. The exhibition gathered many appreciative accolades among the artistic people of Sibiu, the artist's hometown. One year later, he became a member of the Sibiu branch of the Union of Fine Artists, which endorsed his name in a group exhibition at the Atelier 35 Gallery and created an opportunity for a new personal exhibition opened at Atelier 202 in Apoldu de Sus. Casa Luxemburg (The Luxemburg House) was, in 2004, the ideal space for the public to experience the essence of a new exhibition, in the same way in which the Cisnădie City Hall became a hospitable place for another solo show entitled 'Plunged into Colour'. In 2006, Bogdan Mihai Radu was selected to paint in the creation camp at Balcic (Bulgaria), a seaside event followed by an exhibition titled 'The Heart of Queen Marie' in the Carol I Central University Library in Bucharest. The exhibition dedicated to Queen Marie of Romania was opened in 2016 at Cotroceni National Museum. This brought him a renowned School of Barbizon scholarship, a symbol of excellence in painting. In 2018, he won the 1st Prize at the Oxford International Art Fair and was special guest at Tokyo International Art Fair, where he was appreciated by the art critics. For more details, please visit http://www.bogdanmihairadu.com/.
The exhibition at 1 Belgrave Square is dedicated to the memory of the artist's mother.
When: Opening and drinks reception 20 March 2019, 7-9pm. The exhibition continues until 12 April 2019, Monday to Friday between 10am – 5pm.
Where: Romanian Cultural Institute, 1 Belgrave Square, SW1X 8PH
Free entry. Please confirm your attendance on EVENTBRITE.