Scores for a Midsummer Afternoon
20/07/2018 @ St Martin-in-the-Fields, Trafalgar Square, London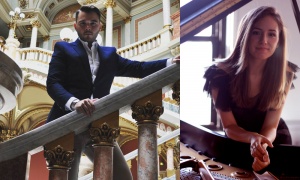 Tenor Vlad Robu and pianist Iulia Marin, two of the most eulogised performers of the young generation, render a midsummer musical delight to soundtrack the careless adrift of a London July afternoon.
The Romanian duo's programme features pieces by George Enescu, Francesco Paolo Tosti, Stefano Donaudy, Pietro Mascagni, Jean Sibelius, Diamandi Gheciu and Nicolae Bretan.
The concert is part of the Romanian Cultural Institute Series at St Martin-in-the-Fields.
Programme
Verdi – In solitaria stanza
Donaudy – O del mio amato ben
Mascagni – Serenata
Sibelius – 5 Songs Op 37
No 1 Den första kyssen

No 4 Var det en dröm?
Sibelius – 6 Songs Op 36
No 4 Säv, säv susa
Liszt – Selection from Transcendental Études
Tosti – Vorrei morire
Tosti – Tristezza
Tosti – A vucchella
Enescu – Toccata and Bourrée from Suite No 2 for piano, in D major, Op 10 ("Des cloches sonores")
Gheciu – Eu te-am iubit
Bretan – Și dacă ramuri bat în geam (And if Branches Beat Against the Window)
Bretan – Pe aceiaș ulicioară (On the Same Lane)
Performers
Romanian tenor Vlad Alexandru Robu graduated a Bachelor of Music and a Master Degree in Singing with Pedagogy from The Royal Danish Academy of Music in Copenhagen. Vlad made his debut in 2013 at The National Operetta and Musical Theater Ion Dacian in Bucharest, Romania, singing Ben in the Musical "Rebecca" by Michael Kunze and Sylvester Levay. In 2015, Vlad was accepted at the prestigious Accademia del Belcanto Rodolfo Celetti in Martina Franca, Italy, where he participated in the 42 edition of the Festival Della Valle D´Itria in the opera L´incoronazione di Poppea by Claudio Monteverdi. Vlad sang in many recitals and concert galas in Italy, Denmark and Romania. He toured in Italy from 2009 to 2013 singing in Sicily, Reggio-Calabria, Basilicata, Toscana and Veneto. Vlad is currently living in Copenhagen, Denmark and studying with maestro Sherman Lowe, and tenor Reinaldo Macias.
Romanian pianist Iulia Marin has appeared as a soloist in the United States, Italy, Holland, Austria, Germany, Bulgaria and Romania. Her concerto debut took place in 2007 on Romania's most prestigious stage: the Bucharest Athenaeum Hall. Ever since, she has performed with the "Mihail Jora" Philharmonic Orchestra, "Dinu Lipatti" Youth Orchestra, "Sinfonia Bucuresti" Orchestra, the National Youth Orchestra, Vidin State Philharmonic Orchestra and Shumen State Philharmonic Orchestra. In recitals, Iulia has performed at venues such as Weill Hall- Carnegie Hall, The Harvard Club, St Paul's Chapel at Columbia University, Greenfield Hall (New York) and had a Recital Tour in Italy. Recent performances include the Bucharest Philharmonic Atheneum Hall, Museo Diocesano Brescia, Act City Hamamatsu Hall Japan, Arlberg 1800 Concert Hall Austria, the 12th Niestetaler Klavierfestival Kassel and Steve Reich's "Six Pianos" in Hannover.
When: 20 July, 1PM
Where: St Martin-in-the-Fields, London
Free entry.