Salut! RCI London's Online Romanian Classes are Back
26/09 - 18/12/2020 @ online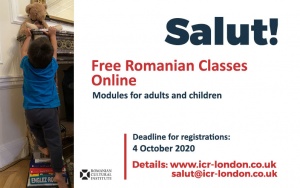 More than 500 people signed up for the first module of the online Romanian language classes which ran between May and July and we are delighted to announce that we are back this autumn. We are again inviting adults and children alike to discover the beauty of our Romance language through a completely free module, taking place online, in a highly interactive and friendly environment. The course has a different content and we accept registrations from both new and previous participants.
The course is taught in both Romanian and English with coverage of the four skills of speaking, listening, reading and writing, and a balance between communicative activities, structure practise and grammar. Studying Romanian through RCI London offers access to highly experienced teachers and welcomes you as part of a warm community where your interest in our culture is valued and nurtured.
The classes are divided according to age and previous experience. At the moment, we are able to cater for the following groups:

Salut, exploratori! is the highly adventurous module for children with a recommended age of 5-12 years old, with a beginner knowledge of the language. Classes start on Fri 9 October and run every Friday for 10 weeks at 5 PM, with a duration of approximately 50 minutes. Class tutor: Mrs. Daniela Ciupală.
Salut, prieteni! introduces Romanian to adults with little or no previous knowledge. Classes, lasting approximately one hour, start on Monday 12 October from 6 PM, and run for 10 weeks. Class tutor: Mrs. Daniela Ciupală.
Salut, companioni! is best suited for adults with pre-intermediate/intermediate levels of Romanian who want to make further progress. Classes, lasting approximately one hour, start on Wednesday 7 October from 6 PM, and run for 10 weeks. Class tutor: Mrs. Carmen Rariș-Fierbințeanu.
Our top priority is our students' health and safety, and all lessons will be taught via the Zoom online platform. The courses follow the same teaching methodology as our face-to-face lessons, therefore you can expect to learn at the same pace, but without leaving the comfort of your home.
What we offer:
- Weekly classes on Zoom and YouTube with an experienced and enthusiastic teacher. The participation in the Zoom class is limited to 20, but the sessions will be available on YouTube, via a private link, for everyone signing up.
- Personalised feedback from your teacher on your out-of-class assignments and homework.
What you will need:
- Access to a computer, tablet or mobile phone with good internet connection.
- Writing materials.
Please use this form to sign up. We accept applications until 4 October 2020.
We look forward to hearing from you!
Daniela Ciupală has a Master of Education in Professional Practice and a Postgraduate Diploma in Education with Teaching Qualification from the University of Glasgow. In the past 10 years, she has been working as a Language Tutor in the UK and Romania.
Carmen Rariș-Fierbințeanu has graduated from the Faculty of Letters, University of Bucharest and in 2016 she got her PhD. She has been teaching Romanian as a foreign language since 2011 both in Bucharest and London (at the UCL School of Slavonic and East European Studies and the University of Westminster).