Romanians in Britain: A Chronicle of Joy
09/12/2011 - 27/01/2012 @ Romanian Cultural Institute London, 1 Belgrave Square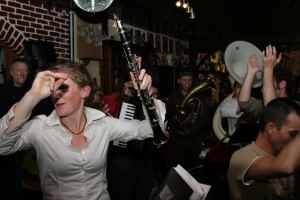 We invite you to discover photographer Inno Brezeanu, the tireless chronicler of the Romanian diaspora in Britain, and his passion: the life of the community away from home and against stereotype.
For almost ten years, Inno has captured thousands of snapshots, documenting unforgettable events: weddings, concerts, football matches, religious celebrations and birthday parties.
The exhibition 'Romanians in Britain: A Chronicle of Joy' presents a selection from this impressive archive, a visual history of the vibrant life of the community, with its day-to-day genuine emotions.
"My photographs aim to show that Romanians are not as archaic as some may think. If other artists have focused on successful Romanians (actors, researchers, entrepreneurs), I have pursued a different approach: we are a nation like every other, with christenings, football, heavy metal bands, weddings and clubbing" said Inno.
Inno Brezeanu is a Romanian photographer, who lives in London since 1996. He works in the financial sector and administrates the online meeting place of Romanians in Britain, www.romani.co.uk. His great passion remains photography and, consequently, he continues to document the ever-growing Romanian community in the UK.
The exhibition is part of the ICR London's "At Home in Belgrave Square" programme, under the patronage of HE Dr Ion Jinga, Ambassador of Romania to the Court of St. James's. The programme aims to protect and preserve the cultural identity of Romanians living in the UK.
With thanks to Mr Iosefin Florea (ROEXPORT), Mr Ovidiu Şarpe and The Brittania Restaurant for their kind support.
When: 9 December 2011 – 27 January 2012. Open: Mon – Fri, 10am – 5pm.
Where: Romanian Cultural Institute, London SW1X 8PH.
Free entrance.