Romanians Against Gravity: Aurel Vlaicu, Flight Daredevil
13/10 - 02/12/2013 @ Romanian Cultural Institute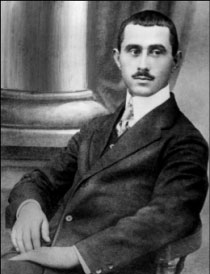 Join us in the celebration of one of the world's most enigmatic and daring pioneers of flight, Aurel Vlaicu.
A mechanical genius raised from humble origins to international fame and an aviator of reckless courage, Vlaicu was an important figure of the 20th century tremendous technological revolution that conquered gravity and put man in the skies. His death in September 1913, at 31, while attempting to cross the Carpathians on board of his flying machine, was mourned as that of a national hero and early aviation demigod.
A UK premiere, the exhibition showcases a replica of his flight machine, as well as the original helmet and flying gear worn by the aviator during his last flight. The opening, commemorating 100 years from the death of the legendary aviator, will also include the screening of Mircea Drăgan's touching biopic "Aurel Vlaicu" (1977).
Born on 7 November 1882 in a small village in Transylvania, Aurel Vlaicu is a renowned Romanian engineer, inventor, airplane constructor and early pilot who, during an extremely short career, rose to become one of the celebrated innovators of the early decades of flight. He studied in Budapest and Munich and for a while became a protégée of the Opel Brothers before dedicating his life to designing, building and flying his own airplanes. Like many of the aviation pioneers, Vlaicu was killed by his passion. He died very young, at only 31, in 1913, while attempting to fly his second original-built machine over the Carpathians.
"Ever since the theft of Prometheus, man has not yet dared such dangerous an adventure. And apparently, just like Prometheus, modern man will pay in blood for this new mystery stolen from God." - Aurel Vlaicu
"With his spirit of selection, with the admirable intuition that he had since childhood, he was seeking the simplest formulas for the scientific theories that interested him, resorting more to the power of imagination, common sense and the peasant mind, and especially to the handiness that never failed him. He worked with passion, mixing the wild devotion of a genius with the perseverance of a peasant." - Octavian Goga
The exhibition is curated and produced by the Romanian Cultural Institute in London; scientific consultant – Mr. Dan Antoniu; with the support of The Museum of Romanian Sport Bucharest, The Ministry of Youth and Sport, and The Museum of Dacian and Roman Civilisation Deva.
When: Opening - Tuesday, 24 September 2013, 7 pm. The screening of "Aurel Vlaicu" will start at 8 pm (in Romanian with English subtitles). The exhibition will continue until 2 December (Mon-Fri, 10 am-5 pm), with a replica of Aurel Vlaicu's flight machine on display.
Where: The Romanian Cultural Institute, London SW1X8PH
Admission is free, but places are limited. Please reserve your seats at T: 020 7752 0134, E: office@icr-london.co.uk