Romanian Virtuosos in the Pianists of the World Series
23/03/2012 @ St Martin-in-the-Fields, Trafalgar Square, London WC2N 4JJ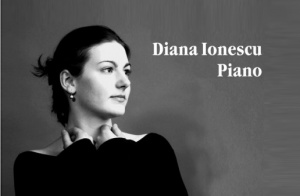 Romanian musicians are in the spotlight of one of London's most popular music programmes. The pianist Diana Ionescu will be performing at St Martin-in-the-Fields within the New Music / Young Romanian Musicians in London Series, relaunched in 2011 with the participation of The Mercury Quartet, Andrei Licăreţ, Matei Bucur Mihăiescu and Victor Nicoară. In 2012, the series hosted Dan Mărginean (piano) and Radu Ropotan (violin), with a truly breathtaking performance.
Programme
Claude Debussy - La Cathédrale Engloutie (Preludes, Book 1)
Robert Schumann - Sonata No.1 in F sharp minor, Op.11
Bach-Busoni - Chaconne in D minor
Romanian pianist Diana Ionescu is hailed as one of the most enchanting performers of her generation. Guided from an early age by such personalities as Sanda Bobescu, Olga Szel and Dan Grigore, and later on by Alexis Weissenberg, Marta Argerich, Lory Wallfisch and Richard Goode, she was constantly encouraged to develop the extraordinary abilities she had shown as a child. Numerous prizes in international competitions (the First Prize in the "George Enescu" Competition – Bucharest 2001, the "Alexis Weissenberg" Prize, The Glass Seller's Trophy – London 2010), as well as her enthusiastically acclaimed performances within major festivals ("George Enescu" Festival 2001, Verbier Festival 2006, Progetto Martha Argerich 2008, St Prex Classics 2010-2011) have turned her into a valuable and active vector of Romanian culture abroad.
While studying at the Guildhall School of Music and Drama with Joan Havill and Ronan O'Hora, she has performed extensively throughout the UK, in venues such as the Wigmore Hall, Barbican Hall, Queen Elizabeth Hall, Purcell Room, LSO St Luke's, St Martin-in-the-Fields, CBSO Birmingham, Covent Garden. Her collaborations with musicians like the "Belcea Quartet", the "Transylvan Quartet", violinist and composer Vlad Maistorovici, soprano Teodora Gheorghiu, as well as famous orchestras – the Romanian National Radio Orchestra, the Romanian Philharmonic Orchestra, the Guildhall School Orchestra –, ensured performances and recordings of the highest quality. In honour of these achievements, she has been awarded the "Ambassador's Diploma" for her contribution to the development of the British-Romanian cultural partnership (22 October 2011). She is currently finalizing her PhD thesis on Enescu's solo piano works, under the guidance of Prof. Ronan O' Hora and Prof. Alexander Lingas. Future projects include completing the recordings of the "Integral Mozart Piano Sonatas" for the Romanian National Radio. Her presence in the UK was generously supported by the Ratiu Family Foundation and The Leverhulme Trust.

When: Fri 23 march, 1pm
Where: St Martin-in-the-Fields