Romanian Verse at StAnza Poetry Festival
10/03/2019 @ The Byre Theatre, University of St Andrews - Conference Room, Abbey Street, St Andrews KY16 9LA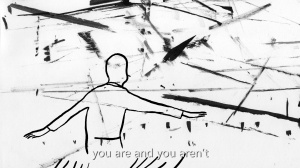 For the 22nd year in a row, Scotland's StAnza Poetry Festival opens its doors to international talent. Romania's first-ever participation at the famed festival, now recognised as one of the leading poetry festivals in the UK and Europe, brings together poets Claudiu Komartin and Simona Nastac, joined by artist Raluca Popa. The three will be talking about the filmpoems that make up 'Polyphonic', a multimedia project through which Romania's best contemporary poetry is brought to life with twenty animations, in an event hosted by charming St Andrews' Byre Theatre and supported by the RCI.
The filmpoems responding to contemporary Romanian poetry, subtitled in English, will be showed in a loop at The Byre Theatre between Thursday 7 March and Sunday 10 March.
Art and poetry have long been considered fruitful allies. Both share a structure, harmony and rhythm; both emerge from a desire to make something new out of the familiar, to capture a thought or an experience in a compelling way. Curated by London-based poet Simona Nastac, Polyphonic is a vivid interplay between these art forms, a coming together of written word with still and moving image that brings Romania's best contemporary poetry to life with twenty animations created by visual artist Raluca Popa. Weaving together the image-making power of poetry with diverse animation techniques, the artist illustrated works by nine young Romanian poets of various ethnic backgrounds, who themselves use polyphony in their poetry by writing both in Romanian and their first language. The poets are Michael Astner, Andrei Dósa, Robert Gabriel Elekes, Matei Hutopila, Henriette Kemenes, Aleksandar Stoicovici, Livia Ștefan, Mihok Tamas, and Victor Țvetov. Polyphonic is produced by the National Museum of Romanian Literature in Bucharest.
Claudiu Komartin is a Romanian poet and translator. His debut collection in 2003 garnered critical acclaim, winning a number of literary prizes. In 2005 he published Circul domestic (Domestic Circus), which was awarded with the Romanian Academy Poetry Prize; he is the youngest poet to earn this distinction. More recently he has won the 'Matei Brâncoveanu' prize, 'Book of the Year 2017', and PEN Romania Award 2018. His work has been translated into a number of languages. Claudiu has been the editor of Poesis international magazine since 2010, and has co-authored two plays. His translations have brought writers including Matthew Sweeney, Roberto Bolaño and Kurt Vonnegut into Romanian.
Simona Nastac is a curator, critic and poet living in London. She studied art history and theory in Bucharest and holds an MA in Creative Curating from Goldsmiths University, London. She has curated exhibitions and live poetry events in London, Seoul, New York, Saint Petersburg, Prague, Shanghai, Cluj and Bucharest. In 2017 she published her first poetry book, The Depressing Colour of Honey (Tracus Arte, Bucharest), which won the Alexandru Mușina Prize 'The King of the Morning' for poetry debuts. The volume was also shortlisted for the George Bacovia National Debut Prize in 2018. Committed to socio-critical art and context responsive practices, she is forever looking for unexpected outcomes able to gently shake up the world.
Raluca Popa was born in 1979, in Romania. She studied at Byam Shaw School of Art - Central Saint Martins, London and at The University of Art and Design, Cluj. She lives and works in Berlin. Her work has been exhibited internationally. Recent exhibitions include Truth lies not only in a dream, but in many dreams at Eastwards Prospectus (Bucharest, 2018) and Life a user's manual at Art Encounters (Timișoara, 2017).
StAnza International Poetry Festival has over the years featured a strong list of contemporary poets from within Scotland and also from across the UK and the rest of the world. Founded in 1998, StAnza celebrates poetry in all its many forms. The festival is an opportunity to engage with a wide variety of poetry, to hear world class poets reading in exciting and atmospheric venues, to experience a range of performances where music, film, dance and poetry work in harmony, to view exhibitions linking poetry with visual art and to discover the part poetry has played in the lives of a diverse range of writers, musicians and media personalities.
Image: Aleksandar Stoicovici, Loneliness This Time © Raluca Popa
When: Sunday 10 March, 2:15pm
Where: The Byre Theatre, University of St Andrews - Conference Room, Abbey Street, St Andrews KY16 9LA
Free entry. Please book HERE.