Romanian Puppet Masters Perform in London
19/05/2018 @ Romanian Cultural Institute, 1 Belgrave Square, London SW1X8PH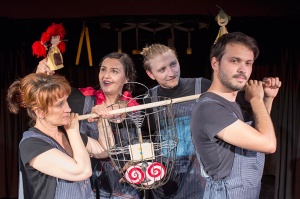 The Romanian Cultural Institute and the Romanian Embassy warmly invite you to celebrate in advance The International Children's Day with an all-time favourite: 'Hansel and Gretel'. Enjoy an original take on the Grimm Brothers' classic, made with impressive artistic ability by the 'Luceafărul' Theatre of Iaşi. Prepare yourself to live or relive a time where the boundaries between here and there, now and then, real and fantasy no longer exist!
Hansel and Gretel
After Grimm Brothers
Directed by: Ion Ciubotaru
Script: Oltița Cîntec
Scenography: Constantin Butoi
With: Carmen Mihalache, Liliana Mavriș-Vârlan, George Cocoş and Alexandru Iuraşcu
The show will be performed in Romanian only.
When & where: Saturday 19 May, 11am at the Romanian Cultural Institute, 1 Belgrave Square, London SW1X8PH
Entrance is free but it is required to book your ticket on Eventbrite - HERE
Please note that the seating is unreserved.