Romanian Premieres at BFI London Film Festival 2017
08 - 13/10/2017 @ Various cinemas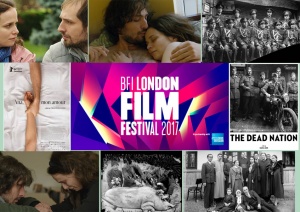 At this year's BFI London Film Festival, as we mark our 8th collaboration with the BFI, Romanian cinema brings forward three astonishing and mind-bending productions, which are not to be missed: 'Ana, mon amour' by Călin Peter Netzer, Radu Jude's 'The Dead Nation', and the short film 'Written/Unwritten' by Adrian Silișteanu.
Leading actress Diana Cavallioti ('Ana, mon amour') and director Radu Jude will take part in Q&A sessions, with the support of the Romanian Cultural Institute.
'Ana, mon amour'
Călin Peter Netzer's film at the BFI London Film Festival depicts the dynamics of a couple's relationship. Netzer offers a bold introspective on Ana and Toma's love story, and closely analyses their evolution both together and separately. Netzer takes the audience on a psychological journey, starting with Ana's panic attacks and Toma helping her overcome these crises to the moment when dependency ties are, gradually, cut off.

Dana Bunescu, the film's editor, won the Silver Bear for Outstanding Artistic Contribution at the Berlinale 2017.
"Romanian cinema takes a decidedly Bergmanesque turn with Ana, Mon Amour, an intellectually complex, emotionally harrowing dissection of the travails of a long-term relationship. Structured jigsaw-style in a series of non-chronological fragments, and featuring terrific performances from leads Mircea Postelnicu and Diana Cavallioti, Ana, Mon Amour is a jump into the realm of intimate psychology from the director of Child's Pose" – Jonathan Romney, Screen Daily
Călin Peter Netzer was born in Romania in 1975, but in 1983 his parents emigrated to Germany, where he grew up. In 1994, he started attending courses at The National Theatre and Film University in Bucharest, Film Direction Department, and in 1999 obtained his diploma as a film director. His short and feature debuts, both entitled 'Maria' (1997 and 2003) won awards at prestigious festivals around the world. His debut feature film 'Maria' was the Locarno International Film Festival highlight in 2003, obtaining the Grand Prize of the Jury and Silver Leopards for the two leading actors; it was also nominated for the EFA Awards. His next feature, 'Medal of Honour' (2009), was selected in more than 30 festivals and awarded the Silver Alexander and four other prizes at the Thessaloniki IFF 2009. It was also shown at the Turin, Miami, Los Angeles, Zagreb festivals, as well as Transilvania IFF and won two Romanian GOPO Awards for Best Leading Actor (Victor Rebengiuc) and Best Script (Tudor Voican). 'Child's Pose' is Netzer's third feature film and probably his most well-known, with a Golden Bear at the 2013 Berlinale.
'The Dead Nation' ("Țara moartă")
'The Dead Nation' is a documentary-essay which relies exclusively on Costică Acsinte's photography collection. Whilst the displayed images might show one side of the story going on in a 1930's-1940's Romanian small town, the soundtrack based on a Jewish doctor's diary reveals some of the events hidden behind the closed doors of history.
"The Dead Nation is a disarmingly simple idea, executed with a bold artistic flair that straddles experimental and more traditional documentary techniques; Jude has pulled off that rare feat of crafting a highly accessible but complex, ambiguous and significant work of cinematic art" – Neil Young, The Hollywood Reporter
Radu Jude is an accomplished Romanian film director and screenwriter. Prior to winning the 2015 Silver Bear Best Director award for 'Aferim!', Jude directed international award-winning short films ('The Tube with a Hat' - 2006), 'It Can Pass Through the Wall' - 2014) and two feature films: 'The Happiest Girl in the World' (2009) and 'Everybody in Our Family' (2012). All Radu Jude's feature films were selected at the BFI London Film Festival.
'Written/Unwritten' ("Scris/nescris")
Adrian Silișteanu's 'Written/Unwritten' covers a whole range of delicate subjects such as identity issues, family problems, prejudices related to the Roma community, as well as challenges emerged from the bureaucratic system. All of these are revealed when an underage Roma girl gives birth, and the hospital authorities discover that her parents' IDs raise legal concerns. 'Written/Unwritten' was awarded the Grand Prix at the Tampere Film Festival 2017 and was also selected at Encounters Short Film and Animation Festival in Bristol.
"Romania does it again with another amazingly affecting story of human frailty that still manages to offer something of a glimmer of hope" – Laurence Boyce, Cineuropa Shorts
Adrian Silișteanu pursued a degree in Cinematography (Bucharest), as well as Digital Cinematography (Paris). His debut film as a DoP was 'Hooked'. This experience was followed by an offer that he took on, as Director of Photography, in Adrian Sitaru's 'Best Intentions', 'Domestic', 'Illegitimate', and 'The Fixer'. He also worked with the renowned Silviu Purcărete on 'Somewhere in Palilula'. His portfolio includes filming feature and short films such as: 'Ho-ho-ho', 'Live', 'Superman, Spiderman or Batman' and '2+2'.
PROGRAMME
'Ana, Mon Amour'
Sunday, 8 October 2017, 17:45, CINE LUMIERE
Monday, 9 October 2017, 20:30, PICTUREHOUSE CENTRAL
'The Dead Nation'
Monday, 9 October 2017, 18:15, INSTITUTE OF CONTEMPORARY ARTS
Wednesday, 11 October 2017, 20:45, CINE LUMIERE
Friday, 13 October 2017, 13:15, NFT2 – BFI SOUTHBANK
'Written/Unwritten'
Saturday 07 October 2017, 20:45, BFI Southbank, NFT2
Thursday 12 October 2017, 21:00, Vue Leicester Sq, Screen 7
Tickets: www.bfi.org.uk/lff