Poet and broadcaster Robert Şerban debuts in London at the British Library
16/05/2012 @ The British Library, Conference Centre, 96 Euston Road, NW1 2DB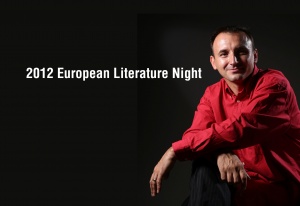 Chaired by BBC journalist Rosie Goldsmith
We are delighted to present Romanian poet Robert Şerban at the prestigious European Literature Night – an international reading marathon for all lovers of literature, held simultaneously in 20 capital cities across Europe and Asia.
Now in its fourth year, the event at the British Library in London will play host to nine groundbreaking writers from Austria, Denmark, France, Germany, Hungary, Montenegro, Poland, Romania and Sweden. Ranging from crime writing to literary explorations of love, from historical novels to horror, from short story mazes to concise contemporary verse, the authors selected are considered extremely relevant for their national literatures and will create a pan-European dialogue on fresh writing.
Robert Şerban is a writer, journalist and tv show host. His poetry has been translated into several languages and appeared in Of Gentle Wolves: An Anthology of Romanian Poetry by Calypso (2011). He will read a selection of poems from his latest volume, Paraphine Death, and will then engage in a dialogue with the public.
Robert Şerban - Let Me Introduce Myself Briefly
I come from a country
where crosses
never
shelter
spiders
under their
armpits
European Literature Night is a UK-based initiative involving 24 European cultural institutions (EUNIC London) as well as the European Comission Representation in the UK. The event promises an astonishing insight into European literature in translation.
When: Wednesday 16 May, 6.30 - 8.30pm
Tickets £7.50 (£5 concessions), available at http://boxoffice.bl.uk or 01937 546546.