Romanian Literature: A European Topos
12/03/2019 @ Romanian Cultural Institute, 1 Belgrave Square, SW1X8PH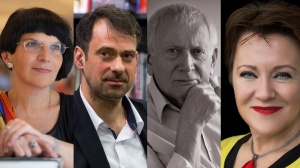 For the flagship event in our programme at the London Book Fair, an evening of invigorating conversations and exquisite prose, Romania's European Union Prize for Literature laureates take centre stage. Celebrated authors Ioana Pârvulescu and Claudiu Florian, winners of the EUPL Prize, will be reflecting on writing in a new Europe and the borderless imagination in the company of revered British author Paul Bailey, a refined connoisseur of Romanian literature and culture at large. The conversation, chaired by former BBC journalist Rosie Goldsmith, director of the European Literature Network, will be illustrated by readings from the awarded writings - Ioana Pârvulescu's novel Life Begins on Friday and the short story A Voice, as well as Claudiu Florian's The Ages of the Game. Citadel Street.
Ioana Pârvulescu was born in Braşov in 1960. She graduated from the Faculty of Letters at the University of Bucharest, establishing herself as a distinct voice within Romania's literary circles, and currently works as Professor of modern literature at the same faculty. She has coordinated the series Cartea de pe noptieră (Bedside Book) at Humanitas Publishing House, worked as an editor at the literary journal România literară, and has also translated from French and German (Maurice Nadeau, Angelus Silesius, Rainer Maria Rilke, Milan Kundera, Saint-Exupéry and Asterix by René Goscinny and Albert Uderzo). Ioana Pârvulescu is the author of three bestselling novels: 'Life Begins on Friday' (2009), 'The Future Begins on Monday' (2012) and her latest, 'The Innocents' (2016). She received the 2013 European Union Prize for Literature for 'Life Begins on Friday' and, in 2018, the Jury Prize for the short story 'A Voice'.
Claudiu M. Florian was born in Rupea, central Romania, in 1969. He received a degree in German Studies at Bucharest University in 1994, an MA in Humanistic Interdisciplinary Studies in German at Bucharest University in 1996, and another Master's degree in Contemporary History at Bielefeld University in Germany. From 2002, he joined Romania's Ministry of Foreign Affairs and functioned as Cultural and Press Attaché at the Romanian Embassy in Berlin between 2004-2009. Between 2010-2013 he held a similar role at the Romanian Embassy in Bern, Switzerland. In 2014 he joined the Romanian Cultural Institute in Berlin, whose director he is. Claudiu Florian is the recipient of the 2016 European Union Literature Prize for the novel 'The Ages of the Game. Citadel Street', published by Cartea Românească.
Lucy Popescu is a writer, editor and arts critic with a background in human rights. She worked with the English Centre of PEN, the international association of writers, for over 20 years and was Director of its Writers in Prison Committee from 1991 to 2006. Her latest anthology, A Country to Call Home, focusing on the experiences of young refugees, was published in 2018. She also compiled and edited A Country of Refuge, published in 2016. Lucy reviews books and contributes to various publications including The Financial Times, TLS, The Literary Review, New Humanist and Huffington Post. She has a particular interest in literary fiction in translation and free expression and is currently chair of the Authors' Club Best First Novel Award.
Rosie Goldsmith is an award-winning journalist specializing in arts and current affairs, in the UK and abroad. In 20 years at the BBC she travelled the world and presented flagship BBC programmes Front Row and Crossing Continents. Rosie speaks French, German and Italian and has lived in Germany, Africa and the USA. Today she combines journalism with chairing and running events and festivals in Britain and overseas and works closely with many leading cultural organisations. Known in the UK as a champion of international literature, translation and language learning, she promotes them whenever she can. She is also Director of the European Literature Network, Chair of the Judges for the EBRD Literature Prize & editor of The Riveter magazine.
Followed by a wine reception.
When: Tuesday 12 March 2019, 7pm
Where: RCI London, 1 Belgrave Square, London SW1X8PH
Free entry. Please book on EVENTBRITE if you wish to attend.
Full programme of the Romanian presence at the London Book Fair 2019.
The Romanian participation at the LBF 2019 is organised by the Romanian Cultural Institute's Book Centre and the Romanian Cultural Institute in London, with the support of the Romanian Embassy, Caravansérail Bookshop, the Romanian Publishers Association, University of Pittsburgh Press, Palm Art Press and Aurora Metro Books. The project is funded by the Romanian Cultural Institute.