Romanian Mihai Ritivoiu is September's "Pianist of the World" at St. Martin-in-the-Fields
27/09/2013 @ St Martin-in-the-Fields, Trafalgar Square, London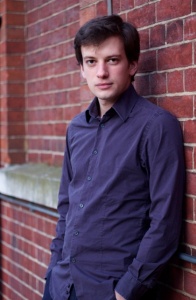 We're back in St. Martin-in-the-Fields' most popular concert series, "Pianist of the World", with a recital offered by indefatigable and talented musician Mihai Ritivoiu. The programme includes pieces by revered Romanian composer George Enescu and by the great Maurice Ravel.
The Romanian pianist Mihai Ritivoiu was born in 1989 in Bucharest, and began piano lessons at the age of six. In 2012 he graduated with the highest honours from the National University of Music in Bucharest, and he is currently studying at the Guildhall School of Music & Drama in London, with Professor Joan Havill. He has also participated in master classes with Dimitri Bashkirov, Dominique Merlet and Richard Goode, and has been receiving advice and guidance from the celebrated Romanian pianist Valentin Gheorghiu.
Mihai has won the Dinu Lipatti National Competition in Bucharest in 2010, and was a laureate of the 2011 George Enescu International Competition. Following these achievements, he was invited to record the 2nd Piano Concerto by Rachmaninoff with the Romanian Radio Orchestra, under the baton of George Costin, for the Romanian Broadcasting Corporation.
Active both as soloist and chamber musician, Mihai Ritivoiu has performed throughout Romania, but also in England, Italy, France and Switzerland. In 2008 and 2009 he received a scholarship from the SoNoRo Chamber Music Festival, which consisted in workshops and concerts with internationally acclaimed performers such as Bernhard Naoki-Hedenborg and Alexander Sitkovetski. Recent appearances include a solo recital in the Ernest Ansermet Studio in Geneva, broadcast live by Radio Suisse Romande – Espace 2.
Mihai's studies in London are generously supported by the Leverhulme Trust and the Ratiu Family Charitable Foundation.
When: Friday, 27 September, 1pm
Where: St Martin-in-the-Fields, Trafalgar Square, London
This lunchtime concert is free and no ticket is required.