Romanian Highlights at the London Book Fair 2012
16 - 18/04/2012 @ Stand W 205, Earls Court 2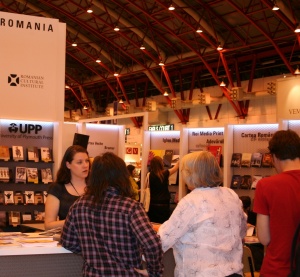 Romania has been a constant presence at the London Book Fair during the last few years. In 2012, we are delighted to announce the highlights celebrating Romanian letters at one of the world's biggest publishing events. From social poetry inspired by Transylvanian legends, to a quirky anthology of stories and poems revisiting Bucharest, from the launch of a new Romanian literary series, to two British writers exploring the Romanian Wonderland.
The Book of Transylvanian Legends and Communist Nightmares: Meeting Guest Poet Ion Mureşan
Mon 16 April, 3.30-4.30pm
British journalist Rosie Goldsmith will host an author event to introduce award-winning poet Ion Mureşan to British and international lovers of poetry. The actress Cristina Catalina will perform readings in English from Mureşan's The Book of Winter and Other Poems (University of Plymouth, 2011). In this political anthology translated by Adam J. Sorkin and Lidia Vianu, Mureşan's poetry draws upon Transylvanian legends to explore the way in which Communist manipulation and monopoly of truth leaves the individual powerless.
Bucharest Revisited Through a Collection of Quirky Stories
Wed 18 April, 11.00-11.45am
Andy Fincham (editor New Europe Writers and author) and Florin Bican (author, The Romanian Cultural Institute) present Bucharest Tales: A Collection of Central European Contemporary Writing (New Europe Writers, 2011), an anthology of quirky stories and poems on Romania and its Capital by native and foreign writers. Contributors include Fleur Adcock, Florin Bican, Mircea Cărtărescu, JoAnne Growney, David Hill, Dan Lungu, Bogdan Suceavă, Grete Tartler, Lucian Dan Teodorovici, Stelian Tănase, Jean Harris and more.
In 2005, New Europe Writers began a ten-year project to capture the spirit of a united Europe. Centred on a city, each volume presents a selection of essential contemporary writing from new and established authors that captures the vitality and variety of this dynamic place and time. Bucharest Tales is the fourth of these anthologies, providing a panoramic insight into the Carpathian Garden and beyond.
Definitions by Octavian Paler Opens Romanian Literary Series
Mon16 April, 1.30-2.30pm
Writer and journalist Octavian Paler's collection Definitions is the first title of a Romanian series to be launched by the independent publisher Istros Books. Presented by Susan Curtis-Kojakovic (Director Istros Books) and translated by Ileana Ştefănescu and S.D. Curtis, the book contains poetical "definitions" as intense and succinct as Haikus – condensed descriptions of a feeling or a moment, they offer us an open door into the larger world of internal reflection.
"Through the Looking-Glass": Alice in Romania
Tue 17 April, 2.30-3.30pm
Anthony Daniels (writer and journalist) and Alex Drace-Francis (cultural historian) exchange views on Romania as a subject of literary interest, in a dialogue moderated by Florin Bican (The Romanian Cultural Institute, Bucharest). The two British authors have explored Romania in formal and informal, honest and vivacious ways, and they are now telling the many-sided stories of a sometimes tormented, sometimes cheerful Wonderland.
Events organized by the Romanian Cultural Institute's National Book Centre with the support of ICR London.