Romanian heavyweights at the 57th edition of the BFI London Film Festival
10 - 15/10/2013 @ BFI London Film Festival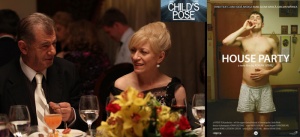 In its fourth year, our partnership with the British Film Institute brings to London 2013's best Romanian films and helmers for a series of illuminating events.
Join us for the screening of 2013 Golden Bear winner "Child's Pose" ("Poziţia copilului"), followed by a conversation with director Călin Peter Netzer. Don't also miss acclaimed Adrian Sitaru's short "House Party" ("Chefu'"), presented in the author's presence.
"The deserving winner of the Golden Bear at this year's Berlinale, the sharply scripted Child's Pose centers on a characteristically excellent performance by Luminiţa Gheorghiu as Cornelia, a well-off, middle-aged architect determined to prevent her lazy, disaffected son Barbu going to jail after his reckless driving kills a child. How far will she go to persuade the cops, the judiciary and even those deep in grief that Barbu wasn't speeding? A splendid blend of psychological realism and social commentary, this acerbic look at the none-too-discreet moral turpitude of the Romanian bourgeoisie grows into a pleasingly ambiguous study of obsessive maternal love; eventually neither we nor the characters can tell if Cornelia's emotional outbursts are sincere, an act or whether she's come to believe her own lies." (Geoff Andrew)
Călin Peter Netzer was born in Romania in 1975 but in 1983 his parents emmigrated to Germany, where he grew up. In 1994, he started attending courses at The National Theatre and Film University in Bucharest, Film Direction Department, and in 1999 obtained his diploma as a film director. His short and feature debuts, both entitled "Maria" (1997 and 2003) won awards at prestigious festivals around the world. His debut feature film was the Locarno International Film Festival highlight of 2003, obtaining the Grand Prize of the Jury and Silver Leopards for the two leading actors; it was also nominated for the EFA Awards. His next feature, "Medal of Honour" (2009), was selected for screening in more than 30 festivals and awarded the Silver Alexander and four other prizes at the Thessaloniki IFF 2009. It was also shown at the Turin, Miami, Los Angeles, Zagreb festivals, as well as Transylvania IFF and won two Romanian GOPO Awards for Best Leading Actor (Victor Rebengiuc) and Best Script (Tudor Voican). "Child's Pose" is Netzer's third feature film.
Screenings:
Odeon West End, Screen 2, Oct 10, 2013 12:15 PM (tickets £ 6.50 - £ 9.00 )
Curzon Mayfair, Screen 1, Oct 11, 2013 6:15 PM
BFI Southbank, NFT1, Oct 15, 2013 8:45 PM
Director Călin Peter Netzer will be in attendance for a Q&A session after the screening on Wednesday 10 October 12.15 pm at Odeon West End and on Thursday 11 October 6.15 pm at Curzon Mayfair.
"House Party" tells the story of Neli, a 55 years old woman, who goes away for a few days leaving her 17 years old son alone. Upon return she finds out that Dan took plenty of advantage of being left alone.
After studying film directing in Bucharest, Adrian Sitaru made the short film "Waves" (2007), which won the Golden Leopard at the Locarno Film Festival as well as Best Short at Sarajevo, Namur, Dresden and Aspen besides another 22 awards. Adrian Sitaru's first feature film, "Hooked", was finished in 2008 and selected in Venice Days at that year's Venice International Film Festival, at the Toronto IFF and took awards in festivals such as Palm Springs, Thessaloniki, Mons, Buenos Aires and Estoril. His short film "The Cage" won a DAAD grant in the Berlinale Shorts. That success was followed by the feature film "Best Intentions", which won Best Director and Best Actor in Festival del Film Locarno 2011, and the short film "House Party". In 2013 he finished his latest feature film, "Domestic".
Screenings:
BFI Southbank, NFT3, Oct 11, 2013 6:00 PM. Sold out.
ICA, Screen 1, Oct 13, 2013 12:45 PM. Sold out.