Romanian films at the BFI London Film Festival 2012
11 - 20/10/2012 @ Various cinemas in London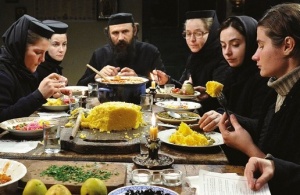 In the last few years, internationally acclaimed Romanian films have been a constant presence on the screens of the world-renowned London Film Festival. This year's edition makes no exception, as the programme includes two Romanian feature films: Beyond the Hills by Cristian Mungiu, and Everybody in our Family by Radu Jude. Mungiu's film has been selected for a special screening, as the Sight and Sound London Film Festival gala on 12 October.
The Romanian Cultural Institute in London is honoured to continue the partnership with the BFI by supporting the two directors presence in London.
Alongside these two award-winning productions, we are also highlighting:
- On Venom and Eternity (Traité de bave et d'éternité) by Isidore Isou
- Along the Lines, Catalina Niculescu's short-film, a compendium of Romanian Modernism, which will be part of a screening entitled Two Architecture Studies
Beyond the Hills
Romania-France-Belgium| 2012| 150 mins | director: Cristian Mungiu| cast: Cosmina Stratan, Cristina Flutur, Valeriu Andriuţă | In Romanian with English subtitles.
Inspired by the non-fiction novels of Tatiana Niculescu Bran.

Alina and Voichita grew up in an orphanage together, where a strong bond developed between them. When Alina left Romania to attempt to make a life for herself in Germany, Voichita became a novice nun at an Orthodox church in an isolated mountainous region of the country. Alina needs her friend's help with documentation, but is also desperate to stay with the only person she has ever loved, expecting Voichita to leave the church and return with her to Germany. Yet Voichita, surrounded by women with unquestioning faith in a community run by a deeply conservative priest, has found such a devout calling that choosing between the love of Alina and the love of God proves to be an agonising experience. Based on real events, the latest drama from Cristian Mungiu (4 Months, 3 Weeks & 2 Days) is a matchless, intensely affecting love story that cements his reputation as one of world cinema's modern masters. Michael Hayden
Screenings:
Curzon Mayfair, Screen 1 Oct 12, 2012 6:00 PM
Curzon Mayfair, Screen 1 Oct 14, 2012 3:15 PM
Ticket Price: £11.50
Director Cristian Mungiu will be in attendance for a Q&A session after the screening on Friday 12 October, 6pm at the Curzon Mayfair. Supported by the Romanian Cultural Institute in London.
Everybody in our Family
Romania, Netherlands | 2012| 108 mins | director: Radu Jude | cast: Şerban Pavlu, Sofia Nicolaescu, Mihaela Sîrbu | In Romanian with English subtitles.
With The Happiest Girl in the World, Radu Jude revealed himself as a promising participant in the remarkable rise of the 'new Romanian cinema'. With this, his superb second feature, that promise is more than fulfilled. Things begin peacefully enough as thirty-something Marius awakens and readies himself to accompany five-year-old daughter Sofia – who lives with his estranged wife Otilia, her grandmother and Otilia's new partner – on a long-arranged trip to the beach. But when he's told, upon arrival at their apartment, that Sofia's unwell and must stay at home, he refuses to take no for an answer – or leave... What ensues is an extraordinary rollercoaster ride for our emotions, with the virtually real-time narrative alternating between black comedy and suspense as the arguments spiral violently out of control. The acting's spot-on, the tonal shifts skilfully executed, the claustrophobic tension almost unbearable. A frighteningly credible study of human interaction. (Geoff Andrew)
Screenings:
Ritzy, Screen 2 Oct 11, 2012, 9:00 PM
Curzon Mayfair, Screen 1 Oct 14, 2012, 1:00 PM
Renoir, Screen 1 Oct 16, 2012 9:00 PM
Ticket Price: £11.50
The screening on Tuesday 16 October will be followed by Q&A sessions with director Radu Jude. Supported by the Romanian Cultural Institute in London.