Romanian Designer Carmen Emanuela Popa at London Fashion Week
22/02/2021 @ online | Website, Facebook page and YouTube channel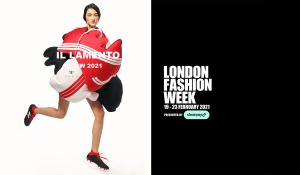 For all the fashion lovers in the world, London Fashion Week is a major event bringing together new aesthetics, visions and names. RCI London has always been a keen promoter of Romanian designers, trying to offer a platform to exhibit their creations.
For this edition (19-23 February 2021), held in an online format, RCI London will broadcast a film introducing Carmen Emanuela Popa, a highly appreciated Romanian designer selected in the official programme of London Fashion Week with her collection for autumn-winter, entitled "Il Lamento". This is the designer's second participation at the prestigious LFW after her "Ancient Dream" collection was included in September 2020's edition.
The film includes a presentation by Carmen Emanuela Popa, as well as images and videos depicting her collections, compared to the aesthetics of the renowned British designer Alexander McQueen.
Carmen Emanuela Popa has graduated from The Faculty of Decorative Arts and Design within the National University of Arts, Bucharest and she is currently a PhD student within the same university, in the field of Visual Arts, Fashion section. She has had numerous participations in international exhibitions and projects with themes that debate the existential issues of the human being and is known for as an artist who advocates for peace and multidisciplinary intercultural dialogue in the context of contemporary arts and design.

When: Monday 22 February 2021, 19.00
Where: live stream on RCI London's Facebook page and Youtube channel