Romanian Classics in English: LIVIU REBREANU - Theatre Performance "Forest of the Hanged" (Pădurea spânzuraților) directed by Radu Afrim
16/04/2021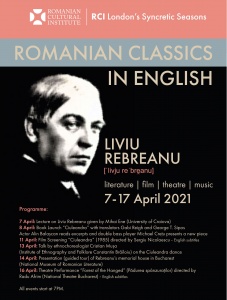 Bringing new resonances to a timeless Romanian writer and his literary works, RCI London is hosting a series of spectacular events dedicated to the renowned novelist Liviu Rebreanu, 10 days boasting a formidable intellectual energy as vibrant and immersive as the folk dance Ciuleandra itself. The syncretic season occasioned by a new translation into English of Rebreanu's Ciuleandra is a gateway to the heart of Romanian culture, comprising talks, music, dance, public reading, film and theatre.
Radu Afrim's "Forest of the Hanged" (Pădurea spânzuraților) theatre performance, broadcasted on 16 April and available for 48h in UK only, will be the perfect and thrilling end of Rebreanu's season showcasing the genuine power of a modern text and, ultimately, of a Romanian classic writer.
Programme:
16 April: Theatre Performance "Forest of the Hanged" (Pădurea spânzuraților) directed by Radu Afrim (National Theatre Bucharest) - English subtitles; available for 48 hours, in UK only.
> > > > > > > > > > > > > > > > > > > > > > > > > > > > > > > > > > >
Liviu Rebreanu (27 November, 1885 - 1 September, 1944) was a renowned Romanian novelist, representative of critical realism. Born in Northern Transylvania, then part of Austria-Hungary, he eventually moved to Romania at the end of the 1900s.
His first published work, in 1912, is a collection of novellas gathered under the title Frământări (Troublings). During World War I, Rebreanu was a reporter for the newspaper Adevărul and published several short stories.
He gained wide recognition with the books Ciuleandra (1927), Răscoala (The Uprising, 1922) and Pădurea spânzuraților (The Forest of the Hanged, 1922) - inspired by the tragic fate of his brother Emil, sentenced to death for desertion from the Austro-Hungarian army.
The novel Ion, published in 1920, is the first modern Romanian novel and depicts the struggles over land ownership in rural Transylvania. For it, Rebreanu received the prestigious Romanian Academy Award.
Between 1928 and 1930, he was chairman of the National Theatre of Bucharest, and from 1925 to 1932 he was President of the Romanian Writers' Society.
His works have had a major influence on the Romanian culture. They are studied in school, have been the focus of ample reviews by important critics and have inspired film and theatre directors. Directed by legendary Liviu Ciulei, The Forest of the Hanged (1964) received the director award at Cannes; other notable adaptations include: The Uprising (1966, the Opera Prima award, Cannes), Ion/The Curse of Land, the Curse of Love (1979), both directed by Mircea Mureşan, and Ciuleandra (1984, directed by Sergiu Nicolaescu).
The play directed by Radu Afrim inspired by Rebreanu's Forest of the Hanged which premiered in December 2018 at the National Theatre in Bucharest is one of the most remarkable cultural events of the recent years.