Romanian Cinema is celebrated again in East London
01/07/2012 @ Corbet Place Café, Ely's Yard, 15 Hanbury Street, London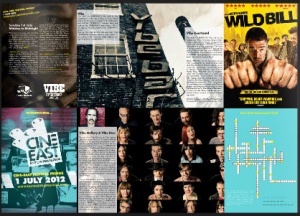 East End Film Festival & Cine-East reveal their programme
12 hours of FREE film screenings, workshops, talks, cinema trails and competitions saturating every venue and hidden corner of London's East End.
Over 100 restaurants, bars, galleries, cinemas and cafes will play host to a series of short and feature film screenings, projections, live bands, interactive gaming, filmmaking competitions and site-specific installations making East London's pavements pound with the sights and sounds of all things – FILM.
With the eyes of the world on East London in 2012, CINE-EAST (part of the East End Film Festival) will be an unstoppable cinematic invasion with an international, fully inclusive programme of cinema covering every genre from drama to documentary, animation to music video.
The Corbet Place will host a celebration of the New Romanian cinema featuring a selection of recent award-winning short films which reveals the skill and unique artistry of Romanian film talent. This is a very special chance to watch some of the best and most recent films by talented young directors.
Corbet Place Café- Ely's Yard, 15 Hanbury Street
Sunday 1st July, 1-5pm
CINE-EAST takes place from 12pm – 12am, Sunday July 1st 2012.
Full programme: http://www.eastendfilmfestival.com/cine-east-full-programme
Also, do not miss:
· An Outdoor Video Projection by Ioana Marinescu and Tapio Snellman portraying the London high street. FLUX is a precise yet emotive visual analysis of a city going through a continuous commercial and cultural change. Project commissioned by The Romanian Cultural Institute, part of the ROlympics programme.
Sunday 1st July, 9.30-10pm, on the wall above the Dray Walk Gallery, next to the Big Chill Bar (The Old Truman Brewery, Dray Walk (off Brick Lane), E1 6QL)
More details: http://www.icr-london.co.uk/article/flux.html
· Witness the result of the exciting project East Meets East, which from April to June 2012 paired young East End filmmakers with award winning Romanian filmmakers, including Radu Muntean, scriptwriter Alexandru Baciu, editor Catalin Cristutiu and actress Anamaria Marinca. Gala screening of the resulting short films – one documentary, one drama, in the presence of all participants.
Friday 6th July, 4pm, RichMix Cinema
More details: http://www.icr-london.co.uk/article/east-meets-east-new-wave-of-talent.html
· UK premiere of Somewhere in Palilula during the East End Film Festival, followed by Q&A with Silviu Purcarete
Saturday 7th July, 6.15pm, RichMix Cinema
More details: http://www.icr-london.co.uk