Romanian Brass @ The Mayor's Thames Festival
11/09/2011 @ The Scoop at More London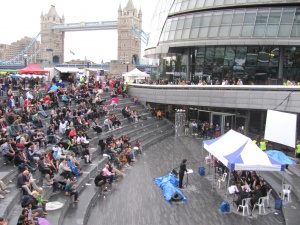 For the fourth consecutive Romanian participation, the powerful orchestra Romanian Brass and a traditional potter's wheel, handled with great skill by two craftsmen from Baia Mare, made an impression at the 15th edition of The Mayor's Thames Festival, the most spectacular open-air event that celebrates London and its river.
Romanian Stand @ New European Village: Sat 10 & Sun 11 September, 12 noon – 9.30 pm, Southbank Centre, Riverside Walkway.
Romanian Brass delivered a live-performance on the last day of the festival, part of The Scoop at More London section, featuring some of the world's best music. The Brass is composed of the best brass wind musicians from the Symphony Orchestra of the "George Enescu" Philharmonic in Bucharest, conducted by Adrian Petrescu. Their repertory includes works belonging to the classic and romantic period, as well as contemporary creations and entertainment music. The ensemble have been highly praised in prestigious festivals and stages in Romania and abroad.
Romanian Brass @ The Scoop at More London: Sunday 11 September: 5.30 - 6.30pm, Riverside Walkway, Tower Bridge.
The Romanian participation at the Mayor's Thames Festival was organised by the Romanian Cultural Institute in London in association with the Romanian Peasant Museum in Bucharest.
When: Sat 10 & Sun 11 September 2011, 12 noon - 10 pm;
Where: South Bank riverside walkway, from Westminster Bridge to Tower Bridge.
Admission: free.