Romania Universalis – An Event Marking the Closing of Romania's Presidency of the EU Council
26/06/2019 @ Romanian Cultural Institute, 1 Belgrave Square, SW1X8PH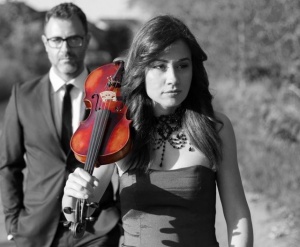 The closing event for the Romanian Presidency of the Council of the European Union brings together two of Romania's most accomplished young musicians - violinist Diana Jipa and pianist Ștefan Doniga -, who will take us on a fascinating journey through the classical European repertoire. The programme comprises chamber music jewels by Paganini, Massenet, Ysaÿe and Sarasate, along with works by George Enescu and Remus Georgescu, as well as beloved compositions inspired by Romanian folklore.
Introductory remarks by HE Dan Mihalache, the Ambassador of Romania to the Court of St James's.
The concert is organised by the Embassy of Romania, with the support of the Romanian Cultural Institute and the Heart-Core Association.
Programme:
George Enescu - Impromptu concertant
Niccolo Paganini - I Palpiti
Jules Massenet - "Meditation" from the opera "Thais"
Eugène-Auguste Ysaÿe - Sonata no. 6
Remus Georgescu - Toccata
Pablo de Sarasate - "Carmen" Fantasy
Béla Bartók - 6 Romanian Folk Dances
Diana Jipa is one of the most versatile and gifted Romanian violinists. She made her debut as a soloist at the age of 10, with the Gheorghe Dima Philharmonic Orchestra of Brașov. Since 2007, she has been constantly invited to perform with most of the Romanian orchestras and she has collaborated with important conductors, such as Ilarion Ionescu-Galaţi, Gabriel Bebeşelea, Dumitru Goia, Iosif Ion Prunner, Theo Wolters, Vincent Gruber, Vlad Agachi, Alexandru Ganea and Mihail Agafiţă. She represented Romania in the Gala Concert to mark the signing of the Treaty of Accession to the European Union of Romania and Bulgaria (Brussels, 2005) and has been invited to perform in Romania, Greece, Italy, The Czech Republic, Germany, Russia, Belgium, Holland and South Korea.
Ștefan Doniga is one of the most active and appreciated pianists of his generation. A graduate of the National University of Music Bucharest in 2002, Ștefan is a national prize-winner who has performed with the most important Romanian national orchestras and artists. He was invited to record with the Romanian Radio Chamber Orchestra as well as to perform in over 20 countries across Europe and Asia. Ștefan Doniga is the only Romanian pianist to perform and record Alexandr Skriabin's complete cycle of Mazurkas for the Romanian National Broadcasting Company.
Diana and Ștefan have developed a long and fruitful collaboration over time. Their recitals and video recordings have attracted the appreciation and admiration of audiences and critics alike.
When: Wednesday 26 June 2019, 18:30
Where: Romanian Cultural Institute, 1 Belgrave Square, London SW1X 8PH
By invitation only.