Romania's bid for the Oscars, Morgen by Marian Crisan, in London
18/02/2012 @ Tricycle Cinema, London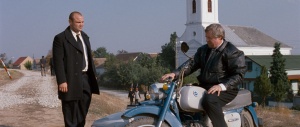 Morgen, directed by Marian Crisan, Romania's entry for the Oscar Awards, will be screened in Tricycle Cinema's International Oscar ® Season in London with the support of the Romanian Cultural Institute. Andras Hathazi, the film leading actor, will join us for a Q&A session.
Morgen had its UK premiere in Belfast, in January 2011, when it opened the Cinema Romania Now showcase, jointly organized by Queens Film Theatre and Romanian Cultural Institute. Aficionados of Romanian film, who could not catch it in Belfast or at the Romanian section of the East End Film Festival in April 2011, have the chance to delight with this touching story of solidarity and friendship.
In 2012, doubling the length of the festival to two weeks, and spicing it with a lot of special events, the International Oscar ® Season will run from Fri 10 - Thu 23 February ahead of awards on Sun 26 February.
Nicolas Kent, Artistic Director of the Tricycle:
'We are delighted to be hosting such an amazing celebration of international cinema. Often Foreign Language film entries for the Oscars are not screened at all in London, and it is wonderful to give the cinema-going audience an opportunity, not only to celebrate their own countries on screen, but to see films from all over the world'.
Venue: Tricycle Theatre, Cinema and Gallery, 269 Kilburn High Road, London NW6 7JR.
Time: Sat 18 February, 20.30
Tickets: £8.50 / £7.50 for concessions.