Romania's Art Publications Pack a Punch at Tate Modern
17 - 19/05/2019 @ Tate Modern – Turbine Hall, Bankside, London SE1 9TG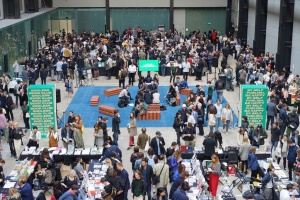 This year, P U N C H Bucharest returns to the British capital for yet another display of editorial artistry at Offprint London, one of the UK's largest art publishing fairs. Romania's fourth consecutive participation at the major event, which takes over Tate Modern's Turbine Hall for a whole weekend in May, also features a talk by graphic designer, illustrator and cartoonist Sorina Vazelina, about her latest book published by Centrala - 'Old Farts. Short Stories About Aging from Romania'.
The Romanian display of art books will feature some of P U N C H's own publications - Vlad Nancă – 'Souvenir', Alina Popa & Florin Flueraș – 'Unsorcery', Katja Lee Eliad – 'Map Maker Like Lyrical', Anca Benera & Arnold Estefan's 'Debrisphere - Landscape as Extension of the Military Imagination' and 'Black Hyperbox' -, along with titles like Gabriel Barbu's 'Absence of Evidence', Matei Bejenaru's 'Prut' or Dinu Bodiciu's 'Shadowear', among others.
Sorina Vasilescu – also known as Sorina Vazelina – is a graphic storyteller "with pretzels for brains". Her comics have been exhibited at international festivals such as NEXTCOMIC-Festival in Linz, Fumetto – International Comix-Festival in Lucerne, and Grafixx Festival in Antwerp. In September 2017, Vasilescu's first comic booklet will be published by Centrala, United Kingdom. Throughout her more than ten years of activity in the field of illustration, Sorina Vasilescu has collaborated with the likes of Esquire, Playboy, Glamour, Elle Magazine Romania, and most recently with Greenpeace Magazine. Besides editorial work, Vasilescu dabbles in book design, zine publication, social and cultural projects.
"Sorina Vazelina's fun and poignant cartoons about ageing makes for compelling reading. She is a talented artist taking on very serious issues and subjects with a wonderfully quirky yet thoughtful approach. Very much worth thumbing through." (Ginanne Brownell Mitic, arts journalist and founder of insidefullofcolor.com)
P U N C H is a specialist bookshop with thematic focus on theory and contemporary practices in art, architecture, design and connected fields. The initiative, based in Bucharest, also works as a distribution platform for small publishers, artists, organisations and institutions from the South-East European region (and beyond) who want to reach a wider audience. P U N C H also acts as a platform for presentations, workshops and publishing.
Offprint is a traveling art publishing fair featuring discerning projects across a wide range of media. Now in its second year, the London fair includes books, zines, vinyls, posters, prints, websites, magazines, and blogs from over 140 participants in the fields of contemporary art, graphic design, literature, poetry, philosophy, and experimental music. In collaboration with Tate Modern and curator Simon Baker, Offprint London 2015 dedicated a special space for photobooks, inviting 70 independent photobook publishers from all over the world. Acknowledging a dissolving effect of traditional sites and media (museums / books / schools) and their respective activities (curating / publishing / teaching), Offprint showcases an alliance between printed strategies and digital cultures within the art world, presenting concrete examples of the contemporary dissemination of artistic practices.
When: Friday 17 May 2019: 6pm - 10pm / Saturday 18 May: 12pm - 8pm / Sunday 19 May: 12pm - 6pm. Admission: free
Where: Tate Modern – Turbine Hall, Bankside, London SE1 9TG