Romania Goes Jazzy at London's Famous Pizza Express Soho and Vortex Club
21 - 23/03/2015 @ Pizza Express Live Soho & Vortex Jazz Club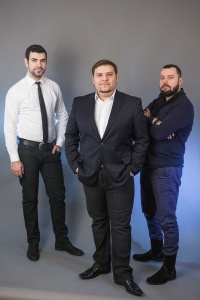 Sorin Zlat Trio, one of the best known Romanian jazz groups in Europe, debuts in London this March at two of the capital's most sought-after clubs: Pizza Express Live Soho and Vortex Jazz Club. Founded in 2008, the Trio is made of: Sorin Zlat – piano, Răzvan Cojanu – doublebass and Laurenţiu Ştefan – drums. The group has shot to fame on the international stage thanks to their surprising fusion of jazz, cool, bebop, classical, and contemporary music and their ever-growing repertoire of personal compositions.
Sorin Zlat, the leader of the Trio, was a finalist both at Montreux International Jazz Competition and Nottingham International Jazz Piano Competition.
Recently, the band has finished working on their first album, entitled 'Endurance', which is slated to be officially released in April. The theme of the album is centred upon the power of love and family. The idea of it came to life with Sorin Zlat, the leader of the Trio, composing the song 'Roxane', which he dedicated to his younger sister.
Sat March 21, Pizza Express Live Soho, 1.30pm
10 Dean Street, London W1D 3RW
Tickets: £15 | 0845 6027 017 | www.pizzaexpresslive.com | Book online

Mon March 23, Vortex Jazz Club, 8.00pm
11 Gillett Street, London N16
Tickets: £10 | 020 7254 4097 | www.vortexjazz.co.uk |Book online