'Romania Day' at Totally Thames 2018
09/09/2018 @ Bernie Spain Gardens, South Bank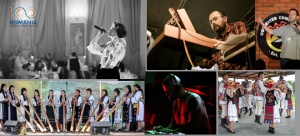 On 9 September, join us for an unmissable festival dedicated to Romania old and new on the South Bank: Romania Day at Totally Thames 2018. The fun-buzzing event brings together a diverse range of artists - from musicians and dancers, craftsmen and DJs, to renowned artists on Romania's contemporary scene.
The programme comprises a lavish demonstration of dances by the "Augustin Bena" Ensemble in Alba-Iulia, the cradle of the Great Union of 1918, lively and infectious music from Taraful George Pătrașcu and vocalist Maria Buză, spectacular craft demonstrations, an LCD installation and activities for children.
We welcome Ivan Patzaichin, the legendary Olympian, and we get a closer look at the six rowing boats. We invite you to discover PATZAIKIN by Olah Gyarfas, the clothing brand inspired by the world-acclaimed canoeist. Appreciated for its local inspiration, grounded in the fishermen traditions in the Danube Delta, the collection will be launched in London on this occasion.
The grand finale to the day will bring together four alphorn players from the Carpathians (in Romanian tulnicărese), joined by the summery synths and explosive beats of Electric Brother and Vlaicu Golcea. The programme will be seasoned with a good dose of humour from stand-up comedian Radu Isac, our host for the day.
The richness of the programme is matched by savoury Romanian dishes that testify to the plentiful tastes and influences that make up the country's cuisine. History is revealed with every bite and sip on this journey of discovery through a century of stories.
Programme:
1pm – Activities for children: music, dancing and crafts
2pm – Folk dances and music from Alba County
2.30pm - Maria Buză and Taraful George Pătraşcu: the music of Maria Tănase and music from the Bucharest of yesteryear
3.15pm - Stand-up comedy with Radu Isac
3.30pm - Folk dances and music from Alba County
4.00pm - Maria Buză and Taraful George Pătraşcu: traditional Romanian music
5.00pm - Electric Brother & Vlaicu Golcea live set: modern explorations of Romanian music
5.30pm - Grand Finale: a fusion of old and new with alphorn players, electronic music and video projections
- - - - - - - - - - - - - - - - - - - - - - - - - - - - - - - - - - - - - - - - - - - - - - - - - - - - - - - - - - - - - - - - - - - - - - - - - -
The event is part of our special programme dedicated to the Romanian Centenary (1918-2018) and is preceded by Romania's participation at the Great River Race, London's annual river marathon, on 8 September. World-famous Olympic medallist Ivan Patzaichin will lead a fleet of six boats that were especially designed and built in the Danube Delta to represent the historical provinces that came together in 1918: Wallachia, Moldavia, Transylvania, Bessarabia, Bukovina and Dobruja.
The programme is organised by the Romanian Cultural Institute in partnership with the "Ivan Patzaichin - Mila 23" Association and the Bucharest City Hall, with the kind support of the Embassy of Romania in London and Totally Thames.
Partners: TAROM Romanian Air Transport, AQUA Carpatica and "Augustin Bena" Cultural Centre in Alba County, Romania.

When & Where:

Romania Day at Totally Thames 2018: 9 September 2018, from 13:00 to 18.00.
Bernie Spain Gardens, South Bank SE1 9PH (between Oxo Tower and the National Theatre).
Free entry.
The Romanian Centenary Regatta at the Great River Race: 8 September 2018, from 08:00 to 15.00. From London Docklands to Ham in Surrey (21.6 Miles). If you wish to support the Romanian team and find out more about the route of the race, please go to www.greatriverrace.co.uk