"Revoluție în Realism": Evenimente speciale
06 - 28/06/2016 @ BFI Southbank & ICR Londra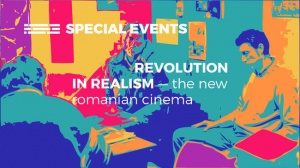 6 – 28 June | BFI Southbank Atrium – free

Photo Exhibition: Freeze Frame by Silviu Gheţie

This exhibition includes photos taken from the set of some famous Romanian films of recent years (2004-2014) such as: Aferim! and Everybody in our Family by Radu Jude, Love Sick by Tudor Giurgiu, Boogie by Radu Muntean, If I Want to Whistle, I Whistle and Box by Florin Șerban and Loverboy by Cătălin Mitulescu.
6 June, 18.10 | BFI Reuben Library

Talk: The Romanian New Wave in Context

This special event provides an opportunity to explore the historical, political, social and cultural contexts that have fed into the films of the Romanian New Wave. The illustrated presentations from key experts including film critic and scholar Andrei Gorzo, prof Dominique Nasta, author of 'Contemporary Romanian Cinema: The History of an Unexpected Miracle' and journalist Nick Roddick will be followed by a lively discussion. Tickets £6.50

.
7 June, 18.00 | BFI NFT1

Special screening: Aferim! + Q&A with lead actor Teodor Corban and screenwriter Florin Lăzărescu, plus director Radu Jude via skype

The Opening Gala event of the 'Revolution in Realism. The New Romanian Cinema' season.
One of last year's best films, this remarkably vivid recreation of the past confirmed Radu Jude's place in the vanguard of Romanian cinema, and brought him the Silver Bear for Best Director at Berlin International Film Festival.

The evening will conclude with a reception offered by the Embassy of Romania. Music by DJ Nico de Transilvania.
Tickets (screening, Q&A and reception): £16.00
8 June, 18.10 | BFI NFT3

Talk: The New Romanian Cinema: A Critic's Perspective

In this illustrated talk, Geoff Andrew, Senior Film Programmer and curator of this season, will discuss why he considers Romanian filmmaking of the last decade so rewarding and exciting. Using clips both from our general survey and the accompanying Cristi Puiu retrospective, he'll cast a critic's eye on the development of a distinctive but pleasingly varied approach to notions of 'realist' storytelling.
Unfortunately, due to changes in his schedule it's with great regret that Cristi Puiu is unable to travel to London for this career interview. Ticket-holders should contact the BFI box office, by phone or in person, for a refund. We apologize for any disappointment.

13 June, 20.30 | BFI NFT3

Cristi Puiu in Conversation

One of the most cinematically adventurous filmmakers to have emerged this century, Cristi Puiu is rightly regarded as a major figure in both Romanian and international cinema, expert at turning material of philosophical, sociopolitical and ethical import into suspenseful, witty or emotionally affecting drama.

We're delighted to welcome him to the BFI Southbank stage to discuss his work and career with BFI Senior Film Programmer Geoff Andrew. Joint ticket available with Stuff and Dough on Mon 13 Jun £16, concs £12
14-30 June | RCI London, free

Cristi Puiu: Truest Colours
(Please note that the exhibition will be postponed until autumn, when we hope to have the artist present with a much broader selection of works)

We deepen our exploration of Cristi Puiu's visual imagination with a special event dedicated to his first and yet unextinguished passion: painting. The exhibition presents the acclaimed director's most notable works, made in Romania and during his first year as an art student at the Ecole Superieure d'Arts Visuels in Geneva before his momentous switch from static to moving pictures.
28 June, 18.10 | BFI NFT3

Talk: Romania's New Cinema – How the Filmmakers See It

Just how healthy is Romania's film industry? Is the 'new wave' a real movement or simply a phenomenon? What was it that enabled Romanian filmmaking to flourish so well in recent years? In this panel discussion hosted by Geoff Andrew, directors Anca Damian, Tudor Giurgiu and Radu Muntean will try to answer these and other questions of contemporary relevance. Tickets £6.50

The talk will be followed by a party. Details here.