'Revolution in Realism' Expands to Iceland
09 - 12/11/2017 @ Bíó Paradís Cinema, Reykjavik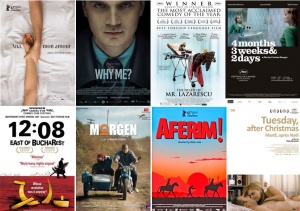 'Revolution in Realism. The New Romanian Cinema', the biggest showcase of Romanian film ever to have taken place in Britain, travels the Northern seas to amazing Reykjavik for four days of Romanian cinematic bonanzas. With a similar format to the successful BFI marathon of last year, the programme, running between 9-12 November, offers a collection of recent masterpieces by award-winning directors, accompanied by Q&As and special events featuring actresses Anamaria Marinca and Diana Cavallioti, and film critic Gabriela Filippi.
The events are organized by the Romanian Cultural Institute in London in partnership with Bíó Paradís Cinema and with support from the Embassy of Romania in Denmark.
The programme will include eight unmissable oeuvres from the New Romanian Cinema elite catalogue:
Morgen by Marian Crişan
Why Me? by Tudor Giurgiu
Aferim! by Radu Jude
4 Months, 3 Weeks and 2 Days by Cristian Mungiu followed by Q&A with Anamaria Marinca
Tuesday, after Christmas by Radu Muntean
Ana, Mon Amour (Iceland premiere) by Călin Peter Netzer, followed by a Q&A session with Diana Cavallioti and a reception offered by the Romanian Embassy in Denmark
12:08 East of Bucharest by Corneliu Porumboiu
The Death of Mr. Lăzărescu by Cristi Puiu
Don't miss the 11 November talk offered by film critic Gabriela Filippi about New Romanian Cinema and its "realist revolution".
Full programme: here.
When: 9-12 November 2017
Where: BioParadis Cinema, Reykjavik, Iceland
Tickets: bioparadis.is