Reviving the Golden Age: Bogdan Văcărescu and Julian Jacobson in the Enescu Concerts Series
02/05/2019 @ Romanian Cultural Institute, 1 Belgrave Square, London SW1X8PH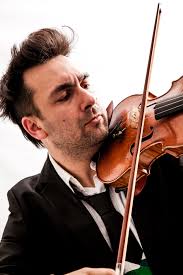 For the May concert in our Enescu Concerts Series, outstanding violinist Bogdan Văcărescu is joined by Julian Jacobson, one of Britain's most distinctive pianists, for a recital that bridges the glorious past and the yearning present. The programme features a stunning selection of beloved pieces and lost masterworks for violin and piano.
Programme:
George Enescu - Sonata Op. 6 No. 2 in F minor for piano and violin
Ludwig van Beethoven - Violin Sonata No.5 "Spring Sonata", Op.24
~Interval~
Tomaso Antonio Vitali - Ciaccona (arr. Charlier-David - Auer)
Ludwig van Beethoven
- The Ruins of Athens, Op. 113 "Turkish March": I. Scherzo (arr. Leopold Auer)
- The Ruins of Athens, Op. 113 "Chorus of Dervishes": II. Etude (arr. Leopold Auer)
Johannes Brahms - Hungarian Dance No. 17 (arr. Fritz Kreisler)
Julian Jacobson – Orang-u-Tango
Frédéric Chopin - Nocturne, Op. 27: No. 2 (arr. August Wilhelmj)
Mario Castelnuovo-Tedesco - Concert Paraphrase on "Largo al factotum" from Rossini's The Barber of Seville (edited by Jascha Heifetz)
Bogdan Vacarescu is a London-based concert violinist who has toured internationally since his teens. He performed on some of the world's greatest stages from the Athenaeum in Bucharest to the Sydney Opera House. His solo album recorded with Julian Jacobson, "Violin and Piano Thrillers", was given five-star reviews across European magazines and radios. Bogdan also recorded soundtracks for films and documentaries, most notably in collaboration with Oscar winners Stephen Warbeck and Gabriel Yared. He has collaborated with BBC Radio and TV, ABC TV, Nigel Kennedy, Paprika, The Cat Empire, Graffiti Classics, She'Koyokh and Secret Cinema, experimenting with many different musical genres. In 2017, Bogdan founded String Dimensions - a chamber group featuring some of the finest musicians in London. He is dedicated to discovering lost and rarely performed masterworks for duos, trios and larger ensembles. In 2019, he will launch Unicorn Frequency, a cross-genre collaboration of traditional, jazz, folk and classical music. Bogdan is a graduate of the Conservatoire of Music in Bucharest and the Royal Academy of Music in London as a student of Paul Ratz and Gyorgy Pauk.
Julian Jacobson studied at the Royal College of Music, Queen's College Oxford and with the great Hungarian pianist Louis Kentner. He was also a founder-member of the National Youth Jazz Orchestra. In a career spanning almost five decades, he has given many concerts in all the major London venues, throughout the UK and in more than 40 countries on five continents. In the early part of his career he was acclaimed as a fine duo and ensemble pianist, working with many leading UK and international soloists and ensembles such as the London Sinfonietta, Music Projects London and Capricorn. His appointment in 1992 as Head of Piano at the Royal Welsh College of Music and Drama led to a greater concentration on solo playing, including his cycles of the complete Beethoven sonatas: he has now given ten of these, including three "marathons" where he performed the complete cycle from memory in a single day. Julian Jacobson is now recording the cycle, adding to a substantial discography on various labels, and is also Chairman of the Beethoven Piano Society of Europe. He is also active as a composer and arranger - including his virtuoso transcriptions of Gershwin's An American in Paris and Second Rhapsody (published by Bardic Edition) for his duo with Mariko Brown, which they will record later this year. He currently teaches at the Royal College of Music and the Royal Birmingham Conservatoire, and is Guest Professor at Xiamen University China.
When: Thursday 2 May 2019, at 19.00;
Where: Romanian Cultural Institute, 1 Belgrave Square, London SW1X 8PH
Entrance is free but we kindly request you to book your ticket on EVENTBRITE. Please note that seating is unreserved.