Return Screening of Somewhere in Palilula
08/09/2012 @ Rich Mix Cinema, 35- 47 Bethnal Green Road , London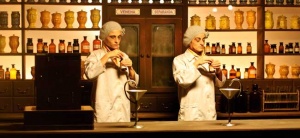 We are delighted to present one of the highlights of this year's East End Film Festival programme,

Somewhere In Palilula

, in a special return screening at midday on Saturday 8th September at the RichMix Cinema. Those that missed the film at EEFF 2012 should not miss the chance to experience an utterly spectacular, unique cinematic debut.
Sent to work in a small town that can't be located on the map, a doctor encounters a world in which all the patients are healthy and the local population live in a constant state of drunkenness, feasting and orgy. Laden with stunning visuals and dark humour, the debut of revered theatre director Silviu Purcarete is a magical-realist wonder comparable to The Hourglass Sanatorium and Gabriel Garcia-Marquez, while still completely inhabiting a world of its own.
When: Sat 8th September 2012, 12pm
Where: Rich Mix Cinema, 35- 47 Bethnal Green Road , London
Tickets: £9 or £6.50; book

HERE