Rethinking London
27/02/2014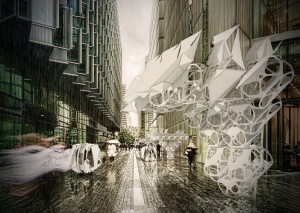 Three research teams made up of twelve international students from the Architectural Association Design Research Lab in London led by professor Theodore Spyropoulos, including the Romanian Octavian Gheorghiu, present an alternative vision of the capital's future, putting forward an ecology of intelligent machines. The students explore possible solutions for London by looking into several problematic aspects such as food supply and the import dependence, the growing need for public space and the underutilisation of the Thames River, transportation and urban mobility.
The conference is organised by the Architectural Association Design Research Lab in collaboration with the Romanian Cultural Institute in London.
Prof. Theodore Spyropoulos is the Director of the Architectural Association's world renowned Design Research Lab (AADRL) in London. He has been a visiting Research Fellow at M.I.T.'s Center for Advanced Visual Studies working with the Interrogative Design Group and co-founded the New Media and Information Research initiative at the Architectural Association. Theodore has taught in the graduate school of the University of Pennsylvania and the Royal College of Art, Innovation Design Engineering Department. He has been an invited collaborator of the Art & Ecology Trans-disciplinary Group, an international cross-disciplinary design group exploring art ecology through urban development organized by the London School of Economics, Royal Society of Arts & Arts Council England. Previously Theodore has worked as a project architect for the offices of Peter Eisenman and Zaha Hadid Architects on high profile projects such as the City of Culture Complex at Santiago de Compostela, O2 Arena and London's 2012 Olympic Bid.
When: Thursday 27 February, 7pm
Where: Romanian Cultural Institute, 1 Belgrave Square, London SW1X8PH
Admission is free, but places are limited. Please confirm your attendance at T: 020 7752 0134, E: office@icr-london.co.uk
Seats are allocated on a first come, first served basis.