Repression and Exile, Remembering the Fall of Communism in Romania
16/12/2013 @ The Romanian Cultural Institute, 1 Belgrave Square, London SW1X8PH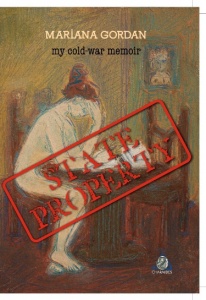 On the night of 16 December 1989, Romanian history was written in blood as the first demonstrations against the dictatorial regime broke out in Timişoara. Countless protesters flooded the streets of the major cities, putting an end to a repressive, criminal dictatorship. Twenty four years later, we remember the Revolution of 1989 with Mariana Gordan's newly published book "State Property", a descent into the hell of communist existence, alongside one of the first Romanian feature films portraying life under terror, Stere Gulea's disturbing "Fox-Hunter" (1993).
The bitter memories of oppression and the struggles of exile will be voiced by Romanian artist and writer Mariana Gordan, who will discuss her autobiographical volume – a vivid account of the dark ages of dictatorship that offers a glimpse into the arts world through the eyes of a refugee artist.
Starring renowned actors Oana Pellea and Dorel Vişan, as well as Romanian-born actor and producer living in Britain - Cristina Catalina, "Fox-Hunter" is the adaption of Nobel-Prize winner Herta Müller's novel "Even Back Then, the Fox Was the Hunter". On the eve of Ceauşescu's overthrow, a young school teacher catches the attention of the authorities for her subversive lyrics written for a popular local rock band. Fortunately, the fall of Ceauşescu's regime forces the torturers to retreat, but once the uncertainty is gone, the terror settles back.
Mariana Gordan's works span across various mediums such as painting, sculpture and film. Her fascination and passion for art and the experimentation of different techniques have led to some important works such as the mosaics from Tottenham Court Road and Finsbury Park underground stations, the bronze bas-reliefs for the BT Docklands building or the drawings for the rugby team "All Blacks".
Stere Gulea has directed over ten films and has written numerous screenplays. His best known feature is "The Moromete Family" ("Moromeţii", 1988), the adaptation of Marin Preda's novel of the same title, and a film that was approved by the communist propaganda five years after its completion. His filmography includes "Weekend With My Mother" ("Weekend cu mama", 2009), "Hacker" (2004), "State of Things" ("Stare de fapt", 1996), and "The Green Grass of Home" ("Iarba verde de acasă", 1978). His last film, released this year, "I'm an Old Communist Hag" ("Sunt o babă comunistă"), is a playful light-hearted construction beneath a sober palette of social realism.
When: Monday, 16 December, 7pm. The screening of Fox-Hunter will start at 7.30pm (in Romanian with English subtitles).
Where: The Romanian Cultural Institute, 1 Belgrave Square, London SW1X8PH
Admission is free, but places are limited. Please confirm your attendance at T: 020 7752 0134, E: office@icr-london.co.uk