Rediscover the beauty of Minimal Complexity in a new location
12/09 - 01/10/2012 @ 201 Bishopsgate, London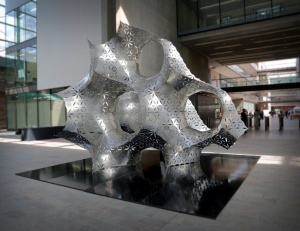 Award-winning Romanian architect Vlad Tenu exhibits in this year's London Design Festival, a citywide celebration of architectural and design talent in the UK capital. Presented by the Romanian Cultural Institute, the project is part of the British Council's International Architecture and Design Showcase 2012, a global gathering of projects that investigate architecture and design from across the world.
Tenu's large-scale sculptural installation 'Minimal Complexity' is a product of architectural research focused on the form-finding and fabrication of minimal surface structures. Computationally generated, the surfaces use an algorithmic process inspired by principles of self-organisation found in nature. Such surfaces have applications in architecture, product design and even fashion design.
The work was featured in the King's Cross Hub of the Festival at Granary Building during the Cultural Olympiad. Rediscover its beauty now in a new location at 201 Bishopsgate, Broadgate, until 6 October 2012.
Vlad Tenu is a Romanian architect based in London. His ongoing research focuses on generative computational methods, digital fabrication techniques and interactive design. 'Minimal Complexity' has been awarded an AIA Houston Design Award for "Divine Detail" in 2012 and won the REPEAT competition in Houston in 2011.
When: 20 August - 6 October 2012, daily 10am - 5pm
Where: 201 Bishopsgate, London EC2M 3AB
Free entrance.