Unsettling "Red Gloves" at the Romanian Cinematheque
10/05/2012 @ 1 Belgrave Square, SW1X 8PH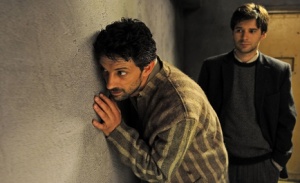 Don't miss Radu Gabrea's latest feature Red Gloves (2010), a poignant story about a young man crushed by the repressive Communist regime.
Adapted from the Romanian-German writer Eginald Schlattner's autobiographical novel, the film dares to confront the "obsessive decade" (as the '50s were dubbed in Romania) in all its disturbing complexity: Felix (Alexandru Mihăescu), a young student of German (Saxon) origin, finds himself arrested and tortured for a crime he never committed, in order to turn in on his friends and his brother. This political drama reveals how easy it was for a totalitarian state to impose itself by fear, randomly rooting out individuals and turning them against each other.
Bitterly ironic and brutally honest, Gabrea's film is a cathartic work. Respectfully recommended, Red Gloves is a deeply and pervasively tragic film.
Libertas Film Magazine
Romania | 2010 | 117min | director: Radu Gabrea | cast: Alexandru Mihăescu, Udo Schenk, Marcel Iureș, Alexandra Pirici, Andi Vasluianu. In Romanian with English subtitles.
See the trailer here.
The Romanian Cinematheque project is realized in partnership with the National Centre for Cinematography in Romania (CNC).
When: 10 May, 7 pm.
Where: Romanian Cultural Institute London
Admission is free but seats are limited. Early booking is well recommended. Please reserve your seats at T: 020 7752 0134, E: office@icr-london.co.uk.