Rebeca Omordia - July Pianist of the World at SMITF
31/07/2015 @ St Martin-in-the-Fields, Trafalgar Square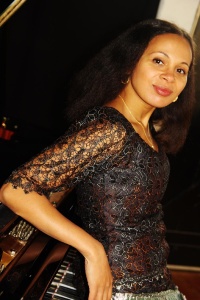 At the end of July, we're back in St Martin-in-the-Fileds' most popular concert series, 'Pianists of the World', with a recital offered by the remarkably gifted young pianist Rebeca Omordia. The programme features works by Sergei Rachmaninoff, Maurice Ravel, John Ireland and Paul Constantinescu.
One of Rebeca Omordia's most precious collaborations was that with renowned British cellist Julian Lloyd Webber, who later said: 'I've been working with the brilliant young pianist, Rebeca Omordia. She is half Romanian, half Nigerian – and it's a powerful combination! … Rebeca's technique knows no bounds but, more importantly, she plays with a depth of insight and understanding which is all too rare today.'
Romanian born award-winning pianist Rebeca Omordia graduated from Bucharest's National Music University in 2006 and then was awarded scholarships to Birmingham Conservatoire and Trinity College. After winning the 2009 Delius Prize, she formed a 5-year partnership with Julian Lloyd Webber, performing at the Wigmore Hall and Kings Place, at St James's Palace, at Highgrove for the Prince's Trust, at Guildhall Portsmouth, Barnes Festival, William Alwyn Festival and for several BBC Radio 3 broadcasts. Described by Birmingham Post as 'a pianist willing to take risks', Rebeca has performed as a soloist in prestigious venues in Europe and the USA including the Wigmore Hall in London, the White Hall in Helsinki, the Romanian Athenaeum in Bucharest, and the British Music Society, John Ireland Trust and Ralph Vaughan Williams Society. She has performed several times on BBC Radio 3, on Romanian National Radio and has appeared on Romanian National Cultural Television Channel.
This year's highlights include Bradfield Festival with Classical FM saxophonist Amy Dickson, John Ireland's 'Legend' with Ealing Symphony Orchestra, the African Musical Arts Chamber Music Initiative in St Louis, USA, and a series of performances of John Ireland's Piano Sonata in the UK, as well as in her native Romania. Rebeca will record her debut CD for AMP Records in St Louis, USA, to be released late 2015.
When: Friday, 31 July, 1pm
Where: St Martin-in-the-Fields, Trafalgar Square, London
This lunchtime concert is free and no ticket is required.