Două documentare româneşti la festivalul "Ready, Steady, Doc!"
20/02/2012 @ Ciné lumière, Institut Français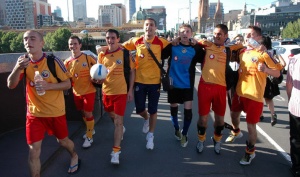 This year's EUNIC documentary festival entitled Ready, Steady, Doc! brings together 14 films about sports from 12 European countries, to coincide with the 2012 Olympic Games. Discover our inspirational proposals: Australia, directed by Claudiu Mitcu, and From Romania with Love, directed by Rene Eckert.
The screening will be preceded by an introduction by Homeless World Cup President, Mel Young.
Australia, by Claudiu Mitcu
HBO Romania Original Production
Romania, 2009, 64 min, with English subtitles
In December 2008, the Romanian National Soccer team participated in World Cup Finals which took place in Melbourne, Australia. The other Romanian National Soccer team.
The film follows the team members, from the beginning of the group until after the championship. The members of the team are from Timisoara and Arad, runaway children who now live in abandoned houses or didn't manage, after passing through orphanages or prisons, to rent a house. After being defeated by many teams, the young Romanians manage to win the U.S. game. They are happy. They are all thinking about not returning "home". Here is warm and good, people are nice. "If we stay, kisses for you all," says one with caution. But, after taking pictures on the beach with the ocean behind and beautiful girls near, the seven youngsters return to Romania and their lives continue.
From Romania With Love, by René Eckert
Romania /Germany, 2009, 26 minutes, with English subtitles
Bringing together professional snowboarders from Slovakia, France, Poland or Hungary and putting them alongside amateurs as well as Romanian professional boarders, this film project is as much about an exchange between people who share the same passion as a documentation of the most progressive Eastern European freestyle snowboarding.
When & Where: Mon 20 February, 6pm, Ciné lumière, Institut Français