RCI's Brâncuşi Gallery Bids Farewell to 'Sculpture in Glass'
28/01/2019 @ Romanian Cultural Institute, 1 Belgrave Square, SW1X8PH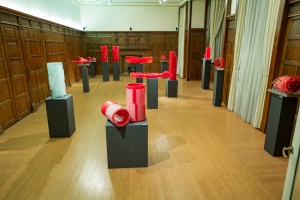 More than two months after it opened to great public acclaim at 1 Belgrave Square, Ioan Nemțoi's 'Sculpture in Glass' exhibition closes with an event dedicated to art professionals and enthusiasts alike. Curated by Mariana Nemțoi and comprising a selection of outstanding glass works that sit at the intersection of sculpture and installation, the evening will be prefaced by a dialogue between artist Ioan Nemțoi and Sylwia Krasoń, editor-in-chief of Contemporary Lynx Magazine.
The event launches RCI London's partnership with Contemporary Lynx Magazine, one of London's most essential guides to Eastern Europe's contemporary art scene.
'The technique I use is almost like a kind of watercolour technique which gives the glass both life and depth and makes it bubble with colour. I love to add colour to a shape. When working with molten glass, one must think and act very quickly yet gently. In the beginning this was very hard to control, but I made glass my challenge. It is also fascinating for me to work with both fire and water. Working with glass has become my way of expressing my feelings. What started as my challenge, today is my art!' - Ioan Nemțoi
A graduate of the Bucharest Fine Arts Academy in 1991 and a member of the Romanian Fine Artists' Union, Ioan Nemțoi is a ground-breaking glass artist. A world-class creator, he is much appreciated for his striking fantasy and for his impeccable technique. Nemțoi uses the transparency of glass to outline a magnificent visual reality, in which the primordial elements of the universe - water, air, fire and earth - become the accomplices of the aesthetic act. He takes one of the most fragile materials in the world and turns it into opulent, powerful works of art. Always in competition with the great names of glass sculpture such as Dale Chihuly, Marvin Lipofsky, Howard Ben Tré, Yoichi Ohira, Mona Hatoum, or Jean Arp, his works can be found in famous collections, such as that of King Harald of Denmark, Queen Elizabeth II of Great Britain, Kofi Annan or Vladimir Putin, Emma Nicholson, HRH Princess Margareta of Romania, but also in the Vatican Museum, Kunstpalast in Düsseldorf, at the UNICEF headquarters in New York, McLarren Technology in the UK, Waterland Neeltje Jans Museum in the Netherlands, The White House in Washington or famous galleries in Romania, Great Britain, Norway, Sweden, Denmark, the Netherlands, France, Italy, Canada, the USA, Japan, Hungary, Germany or Belgium.
The London exhibition is part of a European tour that started in Paris, continued to Brussels and will move to Copenhagen.
When: Exhibition finissage and drinks reception: 28 January 2019, 6:30pm
Where: Romanian Cultural Institute, 1 Belgrave Square, SW1X 8PH
Free entry. Please confirm your attendance on EVENTBRITE.