Ramon Sadîc and Mihai Dragolea: Driving Social Change Through Contemporary Art
16/08/2021 @ online | Website, Facebook page and YouTube channel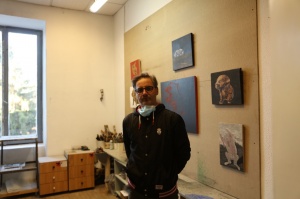 In a thought-provoking and powerful filmed conversation, visual artist Ramon Sadîc and filmmaker Mihai Dragolea are portraying the role of contemporary art to drive social change and address the uplift of the underprivileged. Using powerful imagery, artists can make us ponder on topics like social violence, women's rights, climate change, vulnerable animals and other contemporary social issues. Primarily a visual artist, Ramon Sadîc uses several mediums to express dichotomies of strength-helplessness, courage-fear, freedom-constraint of wild animals but also of abandoned animals such as stray dogs.
The artist's studio, previously located in the Republica industrial space in Bucharest is currently located in Malmaison, conceived as a garrison in the 19th century by the first ruler of the United Romanian Principalities, turned later into a military prison, and during communism, becoming detention and interrogation centre, now one of the largest self-organising concentration of contemporary artists in Romania. Ramon's former studio had an adjacent space dedicated to abandoned dogs that the artist took care of, being influenced by this new responsibility in his own art.
Ramon Sadîc is an established contemporary artist who is primarily influenced creatively by the 1980s, an era of increasing political upheaval, wealth discrepancies and unique music and fashion. In his art, he focuses on painting and hybrid installations. His artistic portfolio includes solo and group exhibitions, some of the most recent: 2020 - "Road Terminals/Borne de Drum" - Diptych Art Space, 2016 - "Art at the window" - Simeza Gallery, 2016 - "Reshaping memories" – Tipografia Gallery 2014 - "Hypsteria" - NAG project.
Mihai Dragolea is a Romanian director, cinematographer and producer known for a series of independent documentaries as well as for the short film Everything for Riana (2020), selected in the official competition of the Odense International Film Festival. He is currently pursuing PhD studies in Cinematography and Media at Babeș Bolyai University in Cluj-Napoca and has graduated a Master Degree in Visual Arts - Photography and Dynamic Image Studies, National University of the Arts Bucharest. He has previously worked on two documentary projects: PhoeniXXX 2017 and Golden Robot 2015.
When: 16 August 2021, 19.00.
Where: RCI London's online channels: Facebook page, YouTube channel