Raluca Dună starts her residency in the Attic Arts studio
23/06 - 22/08/2012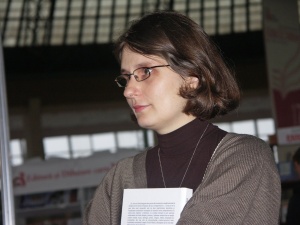 We welcome literary theorist and art historian Raluca Dună, our second artist-in-residence within the Attic Arts programme this year.
Raluca Dună is the author of 'I, The Author. Authorial representations in literature and painting. From Antiquity to Renaissance', published by Tracus Arte (Bucharest, 2010), which brought her the Prize for the Best Book of Literary Theory in Romania in 2010; the Prize of "Observator cultural" weekly magazine for debut, 2011; and a nomination for the debut book at the awards of The Writers' Union from Romania, 2011.
At the ICR London, she will work on a project on British self-portraits and their role in modeling a specific cultural identity.
Where: Romanian Cultural Institute London
When: 23 June - 22 August