Central London, ready to swing by the music of Radu Ropotan and Dan Marginean
30/01/2012 @ St Martin in the Fields, London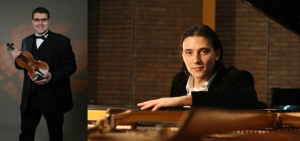 Romanian musicians are back in one of the capital's most popular music programmes. Dan Marginean (piano) and Radu Ropotan (violin) will be performing at St Martin-in-the-Fields within the Young Romanian Musicians in London Series relaunched in 2011 when the programme hosted musicians like: Mercury Quartet, Matei Bucur Mihăiescu and Victor Nicoară.
Programme:
Grieg - Sonata No 3 in C minor
Ravel - Tzigane
Wieniawski - Pollanaise brilliante
Radu Ropotan has won more than sixteen national and international prizes including first prize of the Remember Enescu International Violin Competition (Sinaia, Romania 2007) as well as Special Prize at the 2005 Andrea Postacchini International Competition in Fermo, Italy. He started playing the violin at the age of six, in his hometown Galati, Romania. Over the years his teachers have included Ionel Nistor and Liviu Popovici at the Dimitrie Cuclin Music School in Galati, as well as Maria Mireanu at the Tudor Ciortea Highschool in Brasov, Romania.
In 2008 he was offered a scholarship to study at the Royal College of Music. After a year under the guidance of Maciej Rakovsky, in 2009 he became a pupil of Yuri Zhislin. Radu has performed in Bucharest at the Radio Hall as well as the Romanian Atheneum. He has also given concerts in France (Bordeaux), Italy (Napoli, Fermo), Germany and the United Kingdom.
Dan Marginean started studying piano at the age of 10, in Romania. In 2007 he entered the "Gheorghe Dima" Music Academy in Cluj, as a pupil of Adriana Bera. In 2010 he won a scholarship to study with Niel Immelman at the Royal College of Music, entering directly into the 3rd year of the Bachelor of Music degree.
Over the years, Dan has been awarded prizes and distinctions at important Romanian competitions such as the "J.S.Bach", the "W.A.Mozart" as well as the "Pro Piano", the latter provided him the opportunity to perform at the Romanian Athenaeum. He has also performed recitals in Romania, some of them broadcasted live, and also abroad, including one in Genova, Italy. In 2009, Dan won a scholarship to "SoNoRo" Chamber Music Workshop and in 2010 he performed at a festival as part of the "Arcus Cultural Project". He has taken part in Masterclasses in Europe with Paul Badura-Skoda, Kevin Kenner and Peter Donohoe.
When: Monday, 30th January, 1pm
Where: St Martin in the Fields, London, lunchtime Concerts
This lunchtime concert is free and no ticket is required