'Everybody in Our Family' + Q&A with Șerban Pavlu at the Romanian Cinematheque
04/07/2019 @ RCI London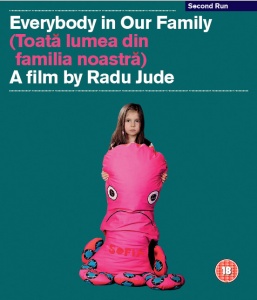 We are pleased to celebrate the world premiere release on Blu-ray of Radu Jude's 'Everybody in Our Family', with a special screening in the presence of lead actor Șerban Pavlu. The event is part of our Romanian Cinematheque programme and is organised in partnership with Second Run.
A key work of the Romanian New Wave, Jude's pressure-cooker drama is an unflinching, sometimes uncomfortable and often hilariously profane portrait of one man's disintegrating mental health as his life and relationships crumble about him.
Synopsis: Recently divorced Marius plans to take his young daughter away on a weekend holiday. When things do not go as planned, he strikes out at those around him, and what began as comic drama soon turns bitter as Marius' increasingly erratic behaviour and morbid self-pity send the film spinning headlong into much darker territory.
Radu Jude (1977, Romania) directed a series of short films, The Tube with a Hat (2006, winner of the Short Filmmaking Award at 2007 Sundance) and Alexandra (2007). His debut feature, The Happiest Girl in the World (2009), was awarded the CICAE prize in the Berlinale Forum and was selected for over fifty film festivals. The film was released in cinemas in France, UK, Austria and Spain. His second feature film, Everybody in Our Family (2012), premiered in the Berlinale Forum, and received the Heart of Sarajevo FF Award, amongst others. His latest short films, Shadow of a Cloud (2013) and It Can Pass through the Wall (2014), were selected in the Quinzaine des Réalisateurs. The latter was awarded a Special Mention. World premiered in the 2015 Berlinale Competition, Jude's third feature Aferim! was awarded the Silver Bear for Best Director, Best Film and the Distribution Award at IndieLisboa, and has been at over sixty festivals. Also, Aferim! represents Romania for the Foreign Language Academy Award. In 2018, his 'I Do Not Care If We Go Down in History as Barbarians' won a series of awards, among which the Crystal Globe at the Karlovy Vary International Film Festival.
Șerban Pavlu was born on June 29, 1975 in Bucharest, Romania. He is an actor, known for Everybody in Our Family (2012), Meda or The Not So Bright Side of Things (2017) and Scarred Hearts (2016).
This world-premiere, region-free Blu-ray edition from Second Run DVD, includes a new filmed interview with director Radu Jude as well as two of his acclaimed short films: 'The Tube with a Hat' (2006) and 'Alexandra' (2007), plus a 16-page booklet featuring a new essay by journalist and critic Carmen Gray. The Blue-ray can be purchased from Second Run website.

Everybody in Our Family (Romania, 2012)
Directed by Radu Jude
Produced by Ada Solomon
Screenplay by Radu Jude and Corina Sabău
Starring: Șerban Pavlu, Sofia Nicolaescu, Mihaela Sîrbu, Gabriel Spahiu, Tamara Buciuceanu-Botez, Stela Popescu, Alexandru Arșinel
Running time: 107 mins
In Romanian with English subtitles.
When: Thursday 4 July 2019, 19.00. Followed by Q&A with actor Șerban Pavlu.
Where: RCI London, 1 Belgrave Square, London SW1X8PH
Admission is free and seats are allocated on a first come, first served basis. Please confirm your attendance on EVENTBRITE.