'Queen Marie of Romania': Screening and Q&A with the Leading Actress Roxana Lupu
17/10/2021 @ Romanian Cultural Institute, 1 Belgrave Square , London, SW1X 8PH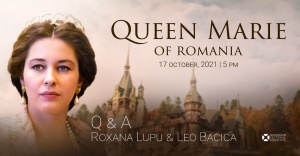 The fascinating biopic of one of the most powerful and popular female leaders Romania has had is coming to RCI London this Sunday, 17 October, from 5 PM in the presence of the leading actress, Roxana Lupu. Chaired by the theater producer Leonard Bacica, the screening will be followed by a Q & A session.
Marie of Romania is among the most intriguing royals of the early 20th century and the historical diorama focuses on her attendance at the Paris Peace Conference which was held in 1919 in the aftermath of World War One. Queen Marie spent several weeks in England and France negotiating on behalf of her country, attempting to get full recognition for the altered make up of Romania following the Great War. The film examines her role in the negotiations and the opposition she faced at home and abroad as her royal family faced struggles in a changing world.
Director: Alexis Cahill
Writers: Gabi Antal, Alexis Cahill, Brigitte Drodtloff
Cast: Roxana Lupu, Daniel Plier, Adrian Titieni, Anghel Damian, Iulia Verdeș, Nicholas Lupu, Nicholas Boulton, Robert Cavanah, Patrick Drury, Ronald Chenery
Roxana Lupu is an actor with a PhD in drama teaching and has worked in various entertainment mediums ranging from film, theatre, commercials to role play and drama facilitator. Originally from Romania she is now based in London and works internationally.
During her studies in Bucharest, she took part in various theatre projects such at 'The Twelfth Night', 'The taming of the shrew', 'Cat on a hot tin roof', 'Hedda Gabler' and many more. Also she was invited to festivals such as the 'L'Aria' International Theatre Festival' in Corsica, France, 'The International Theatre School Festival Olive' and 'The Young Actor's Festival' in Romania. Moving to London, she played the role of young Queen Elizabeth in the drama 'Inside Buckingham Palace' and in the successful 'Inside Windsor Castle' specially commissioned for Channel 5.
When: Sunday 17 October 2021, from 5 PM
Where: RCI London, 1 Belgrave Square, London, SW1X 8PH
Entrance is free but we kindly request you to book your ticket on EVENTBRITE. Kindly book only if you are certain to attend and release the seats.
Please note that seating is unreserved.