Promises of Splendour: Cellist Andrei Kivu and Pianist Ana Silvestru in the 'Enescu Concerts' Series
07/04/2016 @ Romanian Cultural Institute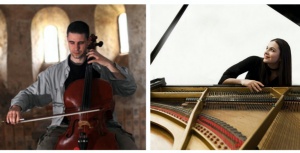 Two of Romania's internationally renowned classical musicians, cellist Andrei Kivu and pianist Ana Silvestru grace our ever popular 'Enescu Concerts' Series with a marvellous programme which includes the chamber transcription of the First Romanian Rhapsody, George Enescu's best loved masterpiece. The charismatic duo also performs two rarely heard works for cello and piano by Romanian composers Constantin Dimitrescu and Constantin Bobescu, alongside well known works by Debussy, Ravel and Bach.
Programme:
George Enescu – 'Romanian Rhapsody' No 1 in A Major, Op 11 (piano solo)
Constantin Dimitrescu – 'Folk Dance' (cello and piano)
Constantin Bobescu – 'Sara pe deal' / 'Eve on the Hill' (cello and piano)
Modest Mussorgsky / Ana Silvestru – 'At the river' (piano solo)
Mily Balakirev – 'Islamey' (piano solo)
Johann Sebastian Bach – Prelude and Fugue from Solo Cello Suite No. 5 in C minor
Maurice Ravel – 'Couperin's Grave' Suite (piano solo)
Gaspar Cassado – 'Prelude-Fantasia' for solo cello
Franz Liszt – 'La lugubre Gondola' / 'The Luguber Gondola' (cello and piano)
Dinu Lipatti – 'Il pleure dans mon coeur' / 'My Heart is Crying' (cello and piano)
Claude Debussy – 'The Cello Sonata' (cello and piano)
Romanian cellist Andrei Kivu studied in Bucharest with professor Anca Vartolomei. As a soloist he has performed with renowned orchestras such as Orchestre Royal de Wallonie, New York University Orchestra, National Romanian Radio Symphony Orchestra, Traditions Musicales Francaises Orchestra, New European Philharmonic Orchestra, Katowice New Music Orchestra. His concerts have been live broadcasted by various radio and TV stations around the world: WNYC (New York, U.S.A), ABC Australia, Radio France, Radio Suisse Romande or the ORF. Andrei has thought masterclasses at the New York University, 'Givat Ram' Music Academy in Jerusalem, at the University of Minnesota and 'Cal Arts', both in the United States. He is the recipient of numerous prizes and distinctions amongst which the most important are the 2003 International Music Award for Outstanding Activities as a Performer, Teacher and Researcher on the New Music and the Uchimura Prize awarded by UNESCO in 2002. Andrei Kivu has been the first Romanian cellist to ever play all Bach's 6 Suites in one concert (Paris, 2009) and also the first Romanian cellist to have been invited to play at the Royal Festival Hall in London, Merkin Hall, Lincoln Center in New York, Onassis Cultural Centre in Athens and Berghain in Berlin. He took part in great international festivals such as 'Wien Modern' (2002, Vienna), 'Warsaw Autumn' (2003, 2007), 'Parramasala' (Sydney, 2011), 'Japan Expo' (Paris, 2014) and 'CTM Festival for Adventurous Arts' (Berlin, 2016). He appears as a soloist and/or as guest musician on more than 30 CDs and DVDs with worldwide distribution, the most important of which being the collaboration with the prestigious label 'Mode Records' (New York). Since 2009 Andrei has been living and teaching in Paris. Since 2001 he has been a member of the 'International School of Ki' and since 2007 has been active in the 'Harmonic Presence Foundation' (New York/Paris).
Between Greek myths, Russian and Romanian fairytales, Ana Silvestru spent her early years with the notes of Tchaikovsky's 'Swan Lake' filling her imagination. By the age of six, it was apparent that Ana's passion for serious music would not decline and she was sent to music school in Bucharest. In 2001, she joined the piano studio of Viniciu Moroianu at the National University of Music. After winning the Erasmus Scholarship in 2004, she began studying in the studio of Karl-Heinz Kämmarling at the Mozarteum University in Salzburg. Along the way, she also had the fortune of learning from piano legends such as Dmitri Bashkirov, Lazar Berman, Konstantin Scherbakov, Bernard Ringeissen and Leslie Howard. Continuing with advanced studies in the studio of Konstantin Scherbakov at the University of Arts in Zurich (ZHDK), the pianist received a Concert Diploma in 2010 and a Soloist Diploma in 2012. Ana Silvestru performed solo and chamber music recitals on multiple tours throughout France, Italy, Spain, Holland, Germany, UK, Switzerland, Austria, Poland, Czech Republic, Israel, and Japan, in Tonhalle Zürich, Musikkollegium Winterthur, St. Martin in the Fields in London, Gedächtniskirche in Berlin, Jerusalem Academy of Music and Dance, Church of St. Simon and Jude in Prague, The Fryderyk Chopin University of Music Warsaw and the Mozarteum University of Salzburg. She played under the baton of Johannes Schlaefli, Chin-Chao Lin, Jiri Rozen, Nuno Coelho, William Blank. Highly in demand as a chamber music player, Ana Silvestru collaborates with artists such as Fabio di Casola, Andrei Ioniță, Alexander Neustroev, Rafael Rosenfeld, Lionel Cottet, Rafal Zolkos, Tamas Henter, Niklaus Kost, Patrizia Häusermann, Alex and Daniel Gurfinkel. She recorded for ZHDK Records the solo and chamber music works of Erich Schmid, as well as Schubert's 'Winterreise' (together with Tamas Henter), to unanimous critical praise.
When: Thursday, 7 April 2016 from 19:00 to 21:00
Where: Romanian Cultural Institute - 1 Belgrave Square London SW1X 8PH
Free entrance. Please book your ticket on Eventbrite.
Please note that the seating is unreserved.