Poet Ioan Es. Pop Through the Poetry Periscope
03/05/2016 @ British Library Piazza, 96 Euston Rd, London NW1 2DB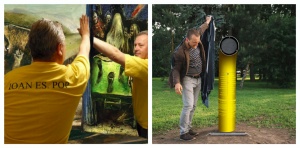 In May this year, Romanian poet Ioan Es. Pop, whose work has been widely published in the UK not only as part of various anthologies but also through his acclaimed collection 'No Way out of Hadesburg and other Poems' (University of Plymouth Press, 2010) makes his comeback on Britain's literary scene at the prestigious European Literature Festival.
Blending in London's soundscape, his verse will be showcased, alongside other poems from 30 countries across the European continent, as part of a new ambitious project that is launched this year by EUNIC London and The Poetry Society - The Poetry Periscope.
A public sound installation, the Poetry Periscope will be hosted by the Piazza of the British Library between 27 April - 19 May, before touring to other venues across the UK, including the Ledbury Poetry Festival (1-10 July) and the Durham Book Festival (16 Sept-16 Oct). Its official launch will be on Tuesday 3 May. The selected poems will be presented in both the native language of each poet and in English translation.
European Literature Night, now in its eighth year and rebranded under the European Literature Festival, is a UK-based initiative involving 32 European cultural institutions (EUNIC London) as well as the European Commission Representation in the UK. Presented by EUNIC London, the European Literature Festival will be a six-week celebration of literature from across the European continent, with more than 60 writers and poets from more than 30 countries involved in events and projects between 27 April - 9 June.
Ioan Es. Pop (1958) received his B.A. in Romanian literature and language from the Baia Mare University in Northern Romania. Since 1989 he has been living in Bucharest, working as a journalist and editor. A member of the Romanian Writers' Union, Pop made his debut with the volume 'Ieudul fără ieşire'/ 'No Way out of Hadesburg' (Cartea Românească, 1994 & University of Plymouth Press, 2010), which received the Romanian Writers' Union Prize. The same publishing house edited his next two volumes of poetry: 'Porcec' (1996), 'Pantelimon 113 bis'/ 'No. 113-bis Pantelimon Highway (2000), which won prizes from both the Romanian Academy and Writers' Union, and the anthology 'Podul'/ 'The Bridge' (2000). Pop also published several other volumes of poetry and, in 2004, was granted the honorific Order of Merit from the Ministry of Culture. Reviewers and critics have praised him as "the most profound, lyric voice of the '90s generation of poets".
When: Launch event - Tuesday 3 May, 6:30 pm. Admission: free
Where: The British Library Piazza, 96 Euston Rd, London NW1 2DB